This is an archived article and the information in the article may be outdated. Please look at the time stamp on the story to see when it was last updated.
[protected-iframe id="301ad323ce2a5a439b90e6c36aa10e37-29519520-12543204″ info="//z.cdn.turner.com/cnn/van/resources/2.1/scripts/van-widgets.js" ]
Bahamas' largest hurricane evacuation
Bahamas Prime Minister Hubert Minnis says his government has ordered a mandatory evacuation of islands in the southern part of the island chain because of Hurricane Irma.
Minnis says the Category 5 storm poses a dire threat to the islands of Mayaguana, Inagua, Crooked Island, Acklins, Long Cay and Ragged Island.
People who live on the islands will be flown Wednesday to Nassau on the island of New Providence. Minnis says it will be the largest hurricane evacuation in the history of the Bahamas.
People who don't evacuate will be at "great danger" from storm surge caused by what he called a "monster" hurricane. Minnis says emergency personnel may not be available to rescue them when the storm is at its height between Thursday and Friday.
Mandatory evacuation set to start in Florida Keys
Southern Florida's Monroe County, which includes the Florida Keys, says it is issuing a mandatory evacuation for visitors as a precaution ahead of Hurricane Irma, and an evacuation order for residents will follow.
The visitors' evacuation is "expected to begin at sunrise on Wednesday," the county said in a statement.
"We want all visitors in the Keys to leave the Keys," county spokeswoman Cammy Clark said Tuesday.
A "potentially catastrophic" Hurricane Irma is roaring toward northeastern Caribbean islands as a Category 5 storm, the National Hurricane Center said, threatening to slam into Antigua, the Virgin Islands and Puerto Rico by Wednesday before possibly taking aim at the US mainland.
Irma was churning Tuesday morning in the Atlantic about 225 miles east of Antigua and Barbuda, heading west with maximum sustained winds of 180 mph — well above the 157 mph threshold for a Category 5 — the hurricane center said.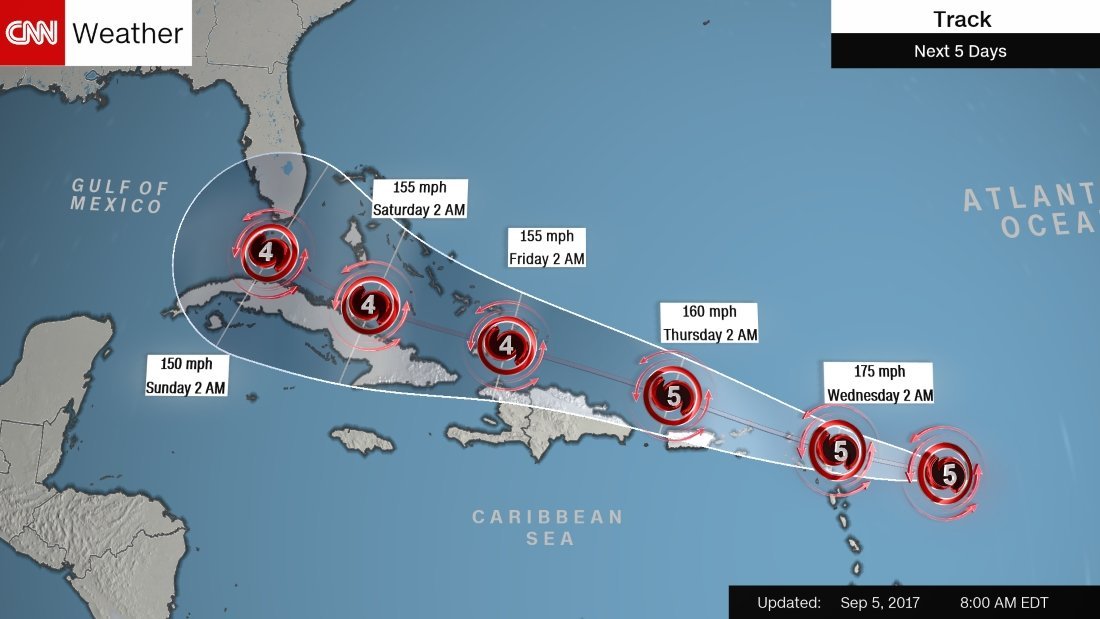 The storm's forecast track currently has it near or over Antigua and Barbuda, St. Kitts and Nevis, and Anguilla by late Tuesday or early Wednesday, and the British and US Virgin Islands and Puerto Rico on Wednesday afternoon.
Preparations to protect life and property in those areas "should be rushed to completion," the hurricane center said in an 11 a.m. ET advisory.
"We could see storm surges of 7 to 11 feet — that's certainly life-threatening — and very, very heavy flooding rainfall" in the far northeastern Caribbean islands as well winds that could cause catastrophic damage near the eye wall, the hurricane center's Michael Brennan said.
Computer models show the system eventually heading near the Dominican Republic, Haiti and Cuba on Friday into Saturday, and possibly turning north toward Florida by the weekend.
While Irma's exact path is uncertain, Florida — where storm-wary shoppers were standing in long lines outside some stores Tuesday — is bracing for the storm.
After declaring a state of emergency across Florida, Gov. Rick Scott said President Donald Trump had "offered the full resources of the federal government as Floridians prepare for Hurricane Irma."
Scott also ordered 7,000 National Guard troops to report for duty by Friday morning. Of those, 100 were activated Tuesday to begin helping with preparations, he said.
"We do not know the exact path of this storm, but weather can change in an instant and while we hope for the best, we must prepare for the worst," Scott said in a statement.
Florida: Stocking up on food, money
In Florida, people were standing in lines at stores to buy water and other goods Tuesday, though landfall there was uncertain.
In Miami, supermarkets are already selling out on water and nonperishable food. People are trying to beat the rush in case Irma makes landfall.
"I've been through hurricanes and they're like 'Oh it's going to hit right here' and then it hits 30, 40 miles up the coast and it kind of changes the way everything goes so better safe than sorry," Greg Andrews told CNN affiliate WPLG.
Alex Batista of Miami told CNN that "the banks are full of people getting money."
And in Clearwater, along Florida's Gulf Coast, a Publix store still was selling six-packs of water but had run out of larger cases, Carrie Hart said. Hart told CNN that workers there were trying to calm shoppers.
On Twitter, she described a "mad run" on the remaining six-packs.
"@publix is out of cases. Expecting more tonight. Store 1300. They are doing their best people. Calm down," she tweeted.
Irma could head to Florida by the weekend, Myers said Tuesday.
"Just tremendous damage if we get this storm, this big, over parts of Florida," Myers said.
Why Irma could be especially intense
Irma is a classic "Cape Verde hurricane," meaning it formed in the far eastern Atlantic, near the Cape Verde Islands (now known as the Cabo Verde Islands), before tracking all the way across the Atlantic, CNN meteorologist Brandon Miller said.
And Cape Verde storms frequently become some of the largest and most intense hurricanes. Examples include Hurricane Hugo, Hurricane Floyd and Hurricane Ivan.
[protected-iframe id="f8e7c54b6d67933651317299e12c7607-29519520-12543204″ info="https://www.facebook.com/plugins/post.php?href=https%3A%2F%2Fwww.facebook.com%2Fwreg3%2Fposts%2F1874111185950912&width=500″ width="500″ height="510″ frameborder="0″ style="border:none;overflow:hidden" scrolling="no"]