This is an archived article and the information in the article may be outdated. Please look at the time stamp on the story to see when it was last updated.
MEMPHIS, Tenn. --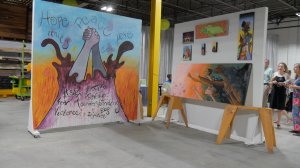 Advanced Memphis held their annual Art for Jobs fundraiser to bring awareness to its cause.
The event featured artwork created by local artists, and all of the proceeds went towards keeping the organization and its goals alive.
Advanced Memphis' entire goal is to help the Cleaborn and Foote communities acquire knowledge, resources and skills to become economically self-sufficient.
"Historically this is one of the poorest zip codes in not just Memphis but in America," said LaRon Tripp.
The organization offers soft skills training course to students, job opportunities, GED equivalency tests, employment support, budgeting courses and even provides support for those who are budding entrepreneurs.