This is an archived article and the information in the article may be outdated. Please look at the time stamp on the story to see when it was last updated.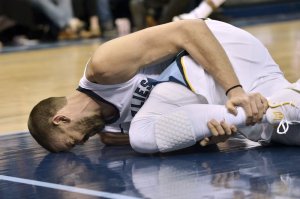 MEMPHIS, Tenn. — Gary Harris scored 26 points, hitting a key basket with just under a minute left, and the Denver Nuggets weathered a fourth-quarter rally to beat the Memphis Grizzlies 108-102 on Friday night.
Harris was 11 of 18 from the field to help the Nuggets snap a two-game skid. Will Barton added 24 points, and Paul Millsap added 15 as Denver sent the Grizzlies to their 12th straight loss.
Marc Gasol led Memphis with 22 points and nine rebounds, Jarell Martin had 16 points, and Dillon Brooks 13 points.
Denver held onto the eighth spot in the Western Conference playoff. The Nuggets entered the night a half-game ahead of the Los Angeles Clippers for the final postseason spot.
Memphis trailed by 13 early in the fourth, but clicked off a 16-6 run to significantly cut into the Denver lead. Eventually, Memphis would get ton 104-102 with a pair of free throws from Gasol with 1:38 left.
But Harris nailed a jumper with just under a minute left as the Nuggets scored the game's final four points.
Both teams shot well in most of the first half. Midway through the second, Denver was still at 69 percent before ending the half at 61 percent. Memphis was still above 50 percent in the second, but couldn't maintain that pace.
The Nuggets were somewhat hampered by 13 turnovers, but the shooting accuracy allowed them to carry a 63-54 lead into the break as Barton had 14 and Millsap 10.
Martin led the Grizzlies with 14 before intermission.
TIP-INS
Nuggets: Millsap, who came off the bench when he returned to action Tuesday after missing 44 games, was in the starting lineup. …The Nuggets failed to reach 114 points. Denver had scored at least 114 in nine of its previous 10 games. … C Nikola Jokic, who had recorded a triple-double in three of the previous five games, managed nine points, nine rebounds and five assist.
Grizzlies: Because of injuries and illness, Memphis had 10 players available, including G Wayne Selden on limited minutes in his first game back from right knee soreness. … The last time Memphis had a 12-game losing streak was from Jan. 6-31, 2009.
UP NEXT
Nuggets: At Cleveland on Saturday night.
Grizzlies: At Orlando on Saturday night.