This is an archived article and the information in the article may be outdated. Please look at the time stamp on the story to see when it was last updated.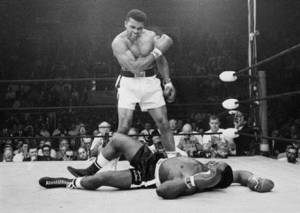 LOUISVILLE, Ky. — Muhammad Ali will return to his old Kentucky neighborhood one last time Friday.
Ali's body will ride in a miles-long procession spanning his life — from the boyhood home where he shadowboxed and dreamed of greatness to the boulevard that bears his name and the museum that stands as a lasting tribute to his boxing triumphs and his humanitarian causes outside the ring.
Louisville is accustomed to being in the limelight each May when the Kentucky Derby at Churchill Downs captures the world's attention. But the send-off for the three-time heavyweight champion and global advocate for social justice looms as one of the city's most historic events.
"We've all been dreading the passing of The Champ, but at the same time we knew ultimately it would come," Louisville Mayor Greg Fischer said. "It was selfish for us to think that we could hold on to him forever. Our job now, as a city, is to send him off with the class and dignity and respect that he deserves."
Ali died last Friday at 74 after a long battle with Parkinson's disease. The procession and memorial service follow a traditional Muslim funeral service held Thursday afternoon. The faithful traveled from all over the world to pay their respects.
Thousands more are expected to line procession route Friday to wave a final goodbye to the city's favorite son. A hearse will carry Ali's body 19 miles through the city of Louisville, past places he held close to his heart, notes CBS News' Don Champion.
The motorcade will begin at the funeral home and head north onto the interstate. It will pause briefly as it overlooks the Muhammad Ali Center in the heart of downtown.
The cars will head west onto Muhammad Ali Boulevard, pass the Kentucky Center for African-American Heritage and visit his childhood home on Grand Avenue. Then it will turn toward his final resting place. Officials predict a 90-minute tour.
The procession ends at Cave Hill Cemetery, where his family and closest friends will gather for a private burial.
Actor Will Smith and Former heavyweight boxing champ Lennox Lewis will be among eight pallbearers, Champion notes.
"I'm truly honored," Lewis says. " … He will always be remembered and he will never be forgotten."
At 2 p.m., thousands will gather at the KFC Yum Center a final send-off befitting The Greatest.
The service will feature a eulogy by former President Bill Clinton, a longtime friend, and remarks by comedian Billy Crystal, television journalist Bryant Gumbel and the champ's wife, Lonnie.
The interfaith event will draw dignitaries such as Mormon Republican Sen. Orrin Hatch, the King of Jordan and the president of Turkey, Champion points out.
bookend a week-long series of planned services and spontaneous celebrations.
The Ali Center stopped charging people for admission. A tour company began impromptu tours of Ali's path through the city. Businesses printed his quotes across their billboards. City buses flashed "Ali – The Greatest" in orange lights across their marquees. A downtown bridge said it would be lit the rest of the week in red and gold: red for his gloves and gold for his medal.
How can the storied life of a man revered by fans worldwide be encapsulated in a two-hour service? As it turns out, Ali called the shots.
Years ago, the champ signed off on how he wished to say goodbye to the world. One of his mandates was that ordinary fans attend, not just VIPs. Thousands of free tickets were snatched up within an hour, many fans waiting hours for the chance to witness history.
"Everybody feels a sense of loss with Ali's passing," said Mustafa Abdush-Shakur, who traveled from Connecticut to pay tribute to him. "But there's no need to be sad for him. We're all going to make that trip."
[protected-iframe id="451a5e4c0d148e5cf60f0cd24a2bb501-29519520-90829140″ info="http://www.cbsnews.com/common/video/cbsnews_video.swf" width="620″ height="387″]