This is an archived article and the information in the article may be outdated. Please look at the time stamp on the story to see when it was last updated.
Which outdoor camera is better, Blink or Wyse?
A home security system offers you peace of mind, knowing that your family is safe and your home is protected whether you're sleeping soundly or away from the house. Modern security systems connect to the internet, too, giving you the capability of monitoring your home from anywhere in the world.
Both Blink and Wyze offer intelligent outdoor cameras that can withstand the elements while recording activities day or night. These rugged smart-home devices let you view live video footage and can send alerts to your smartphone when people or animals approach your home. They also provide a means of speaking to whoever is on your property, without requiring you to open your door.
The Blink Outdoor Camera and the Wyze Cam V3 are both high-quality outdoor security cameras. But which one is better?
Blink Outdoor Camera
Blink offers three types of security cameras that share similar features and are among the best security cameras on the market today: Indoor, Outdoor and Mini. The outdoor camera is housed in a small black case, 2.7 by 2.7 by 1.2 inches thick, and carries an Ingress Protection rating of 65, showing it's ideal for all weather conditions. It's powered by a set of AA lithium-ion batteries that last up to two years.
Motion detection and customizable recording capture full HD video at 30 frames per second over a 110-degree field of view. The narrow-angled lenses work best for monitoring targets such as entrances and doorways. The camera records up to 60 seconds, and night vision is provided with an infrared LED for black-and-white video.
The Sync Module 2 (included with the camera) communicates with a Wi-Fi network and works with Alexa voice commands (Amazon owns Blink) and applets for the free web service IFTTT. Live View provides live video and sound via the Blink app on your smartphone and some Alexa-enabled devices. A speaker and microphone offer two-way audio for talking to visitors. Status LEDs on the front light up when the camera is active and when night vision is enabled.
The Sync Module, powered by a mini-USB AC adapter, has a USB port for connection to an external device, such as a thumb drive, to store event-triggered video clips. Cloud storage is available with a subscription.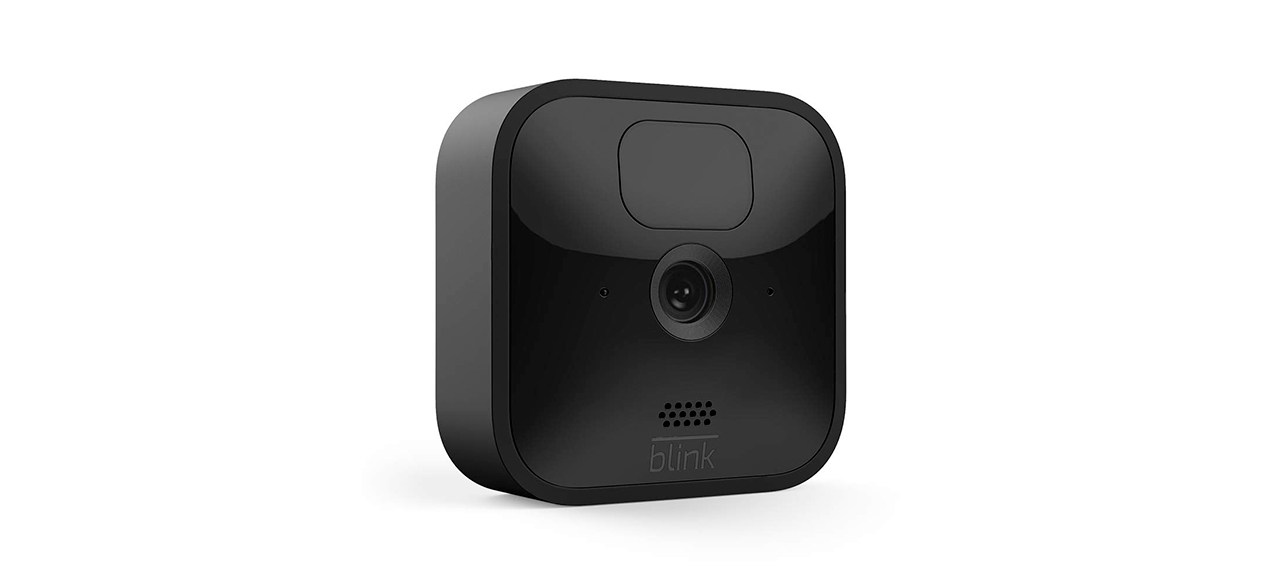 The Blink Outdoor Camera is available at Amazon and Home Depot for about $100.
Blink Outdoor Camera pros
Easy to hide: The small, lightweight camera is easy to keep out of sight.
High-quality video: Full HD resolution provides sharp video.
Alexa devices: It works with Alexa and IFTTT.
Flexible storage: Video can be stored in the cloud and local devices.
Range: The camera works within 100 feet of the Blink Sync Module 2.
Motion detection: The camera detects movement up to 20 feet away.
Battery life: The batteries last up to two years.
Installation: Lack of power cords makes installation easy.
Blink Outdoor Camera cons
Hub: The camera only works with a network hub to connect it.
Amazon Alexa only: No support is provided for Google Assistant or HomeKit.
Field of view: The 110-degree field of view is limited compared to the 160 degrees offered by some competitors.
Wyze Cam V3
The Cam V3 is the third generation of Wyze's line of budget-minded home security cameras that include the wireless Wyze Cam Outdoor V2 and the Wyze Cam Spotlight Bundle.
The wired V3 camera measures 2.2 by 2 by 2 inches and rests on a square-hinged base that adds 1.2 inches to the height when fully extended. The hinge and swivel mechanisms provide 180 degrees of vertical and 360 degrees of horizontal movement.
Like the Blink Outdoor Camera, it has an IP65 rating, making it suitable for outdoors when used with the Wyze Outdoor Power Adapter (sold separately). The camera offers Full HD video in daylight, and Wyze's Starlight Sensor records nighttime video in vivid color even when it's 25 times darker than when traditional video cameras can see.
The Wyze camera's intelligent motion detection notifies you via the Wyze app and sends a video clip when it detects either motion or sound. Motion tagging provides a clear image of what triggered a motion-detected event by placing a green square on the screen around the source of motion. The V3 also sends an alert the moment it hears a smoke or CO alarm sound nearby and records a video during the event.
The Wyze Cam V3 offers free cloud storage and can capture up to 28 days of video with a 128 gigabyte microSD card (not included). The camera is compatible with Amazon Alexa and Google Assistant voice commands and supports IFTTT.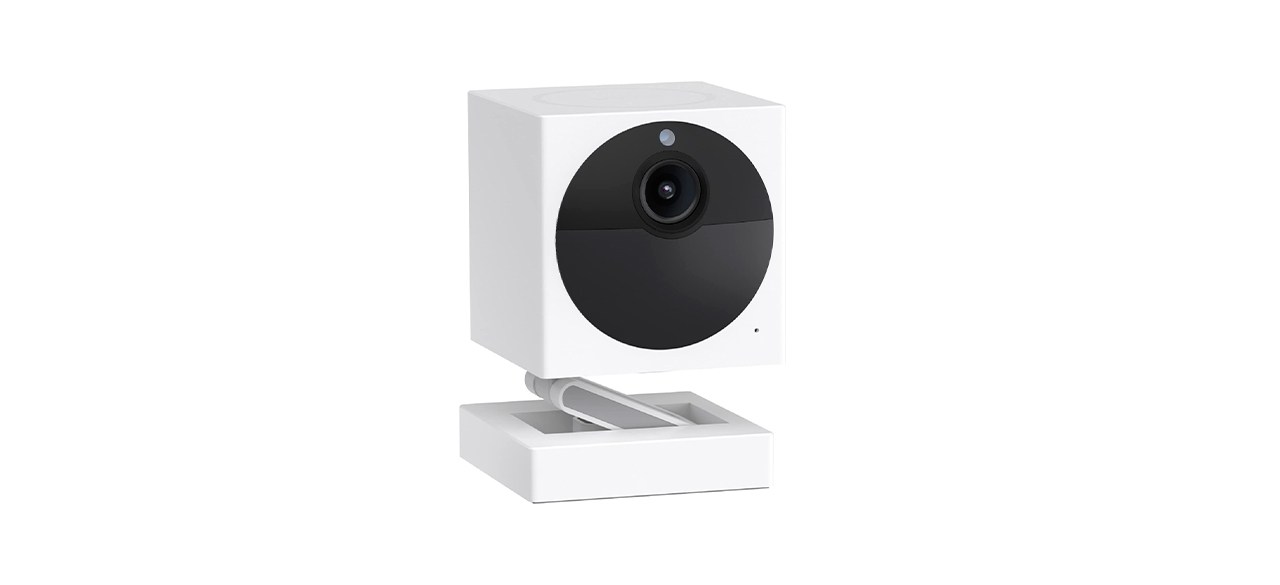 The Wyze Cam V3 is available at Amazon and Home Depot for about $36.
Wyze Cam V3 pros
Versatile: It works indoors and outside.
Color night vision: The V3 records color videos in low light conditions.
Storage: The camera has local storage and free cloud storage.
Smart home devices: The V3 offers Amazon Alexa, Google Assistant and IFTTT support.
Motion detection: It detects motion, sound and people.
Built-in siren: The siren can be controlled from the Wyze app, and the speaker is loud enough to ward off intruders.
Price: The V3 is less expensive than most of its competitors.
Wyze Cam V3 cons
No battery use: The V3 is a wired security camera.
Apple issue: The V3 works with iOS but does not support Apple's HomeKit hub.
Subscriptions: Some V3 features require a subscription.
Should you get a Blink or a Wyze outdoor camera?
Both the Blink and Wyze outdoor cameras offer security with Full HD video, intelligent motion detection, remote control from a smartphone app and support for Alexa-enabled and other smart devices. Both include microSD slots for local video storage and a connection to the cloud, although the Blink service requires a subscription.
The Wyze camera offers its Starlight Sensor that records low-light nighttime video in vivid color while the Blink registers in black and white. For the homeowner looking for a battery-powered camera, the Blink is a good choice. The Wyze runs off household electricity, but it offers more features than the Blink at about half the price.
Want to shop the best products at the best prices? Check out Daily Deals from BestReviews.
Sign up here to receive the BestReviews weekly newsletter for useful advice on new products and noteworthy deals.
Jeff Harper writes for BestReviews. BestReviews has helped millions of consumers simplify their purchasing decisions, saving them time and money.
Copyright 2023 BestReviews, a Nexstar company. All rights reserved.