This is an archived article and the information in the article may be outdated. Please look at the time stamp on the story to see when it was last updated.
Which mass gainer is best?
No matter how hard you work and how many hours you pour into your gym, there will come a point where you can no longer naturally build muscle mass. That's where mass gainers come in. Mass gainers are packed with calories, carbohydrates and protein so you can boost your results to where you want them.
The best mass gainer is MuscleTech Mass-Tech Elite Mass Gainer. It's stuffed with calories, carbohydrates and protein so you can build muscle and general mass as fast as possible.
What to know before you buy a mass gainer
Calories
Mass gainers contain a high amount of calories per serving so they can bulk you up. You have to be careful about taking in too many calories, though, as this will lead to fat gain instead of muscle. Most mass gainers have calorie-per-serving counts of 500 to 1,000.
Carb-to-protein ratio
The carb-to-protein ratio is what separates a mass gainer from a protein powder. However, these products often work in tandem — just at different stages of your journey.
A mass gainer has roughly three times as many carbohydrates as protein, while protein powders are the inverse, having multiple times fewer carbohydrates than protein.
So use a mass gainer to gain weight and build bulk. Once you've built that bulk, however, switch to a protein powder so you can shed excess weight while losing minimal to no muscle mass.
Quantity
Mass gainers come in various quantities, usually given in pounds. They can be as small as 1 or 2 pounds or as much as 10-plus pounds. When trying a new mass gainer, always start with a small bag to see if you like it, then switch to a big bag so your per-serving cost drops.
What to look for in a quality mass gainer
Sugar
The best mass gainers contain low quantities of sugar. It should be just enough to make the gainer taste good without adding too many empty calories. Aim to have no more than 3 to 5 grams of sugar per serving.
Other ingredients
The best mass gainers contain extra, helpful ingredients. Most contain branched-chain amino acids, often shortened to BCAA. Others may contain electrolytes to prevent muscle cramps or special enzymes to aid in digestion. Finally, many gainers contain a collection of helpful vitamins and minerals.
How much you can expect to spend on a mass gainer
They can cost as little as $15 or as much as $50 depending on the size of the container and how much protein is included per serving. Small and low-protein containers typically cost no more than $25, while midsized and average-protein containers run no more than $35. The biggest and highest-protein containers start around $30.
Mass gainer FAQ
What are the benefits of using a mass gainer?
A. There are many benefits to using a mass gainer.
Muscle growth and recovery: Mass gainers help build your muscles as you work out but crucially speed up your muscle recovery so you don't feel as sore for as long. This lets you get back to the gym quicker for more workouts and more gains.
Energy: All the carbohydrates and protein give you extra energy reserves so you can work out harder and longer.
Digestion: Fiber is a common ingredient in mass gainers to not only aid general digestion but to help you absorb more nutrients.
Nutrient mix: Mass gainers are precision formulated to give you the perfect amount of nutrients, something far harder to achieve from even the most rigorous diet plan.
Are there side effects when using a mass gainer?
A. A few are possible.
Fat gain: A given mass gainer won't work for everyone. It may have too many calories or contain too much protein or carbohydrates for your diet. You'll still gain mass, but it will be extra fat instead of muscle.
Digestive issues: Some mass gainers can cause digestive issues, such as diarrhea, cramps or an upset stomach. To try to avoid this, start a new gainer by taking only a quarter serving on the first day and increasing your serving by a quarter over the next few days. If you have any of these symptoms at any point, consider a different gainer.
Allergic reactions: Most mass gainers contain whey, soy or milk. Double-check before purchasing if you're allergic to any of these.
What's the best mass gainer to buy?
Top mass gainer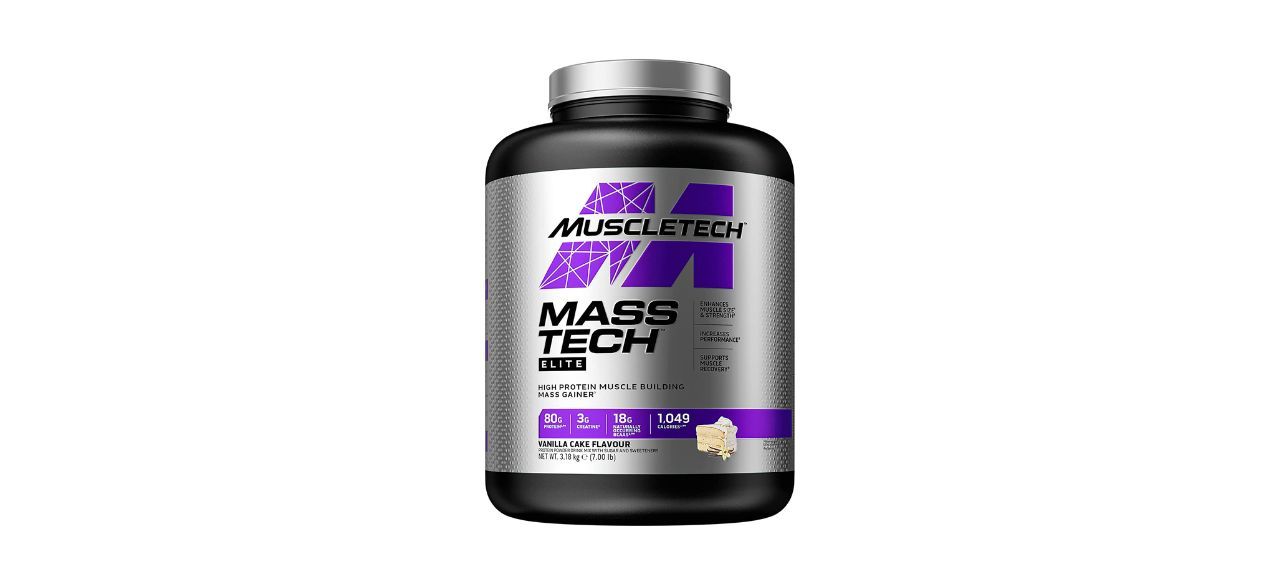 MuscleTech Mass-Tech Elite Mass Gainer
What you need to know: This mass gainer is packed with extra protein.
What you'll love: There are three flavors — chocolate, vanilla and cookies and cream — and the 7-pound container holds roughly 15 servings. Each serving contains 80 grams of protein, 156 grams of carbohydrates, 17 grams of amino acids and 1,000 calories when mixed with two cups, or 16 ounces, of skim milk.
What you should consider: Some purchasers felt sluggish after taking it. Others found it doesn't mix well, leading to a chalky experience. A few thought it was too sweet.
Where to buy: Sold by Amazon and iHerb
Top mass gainer for the money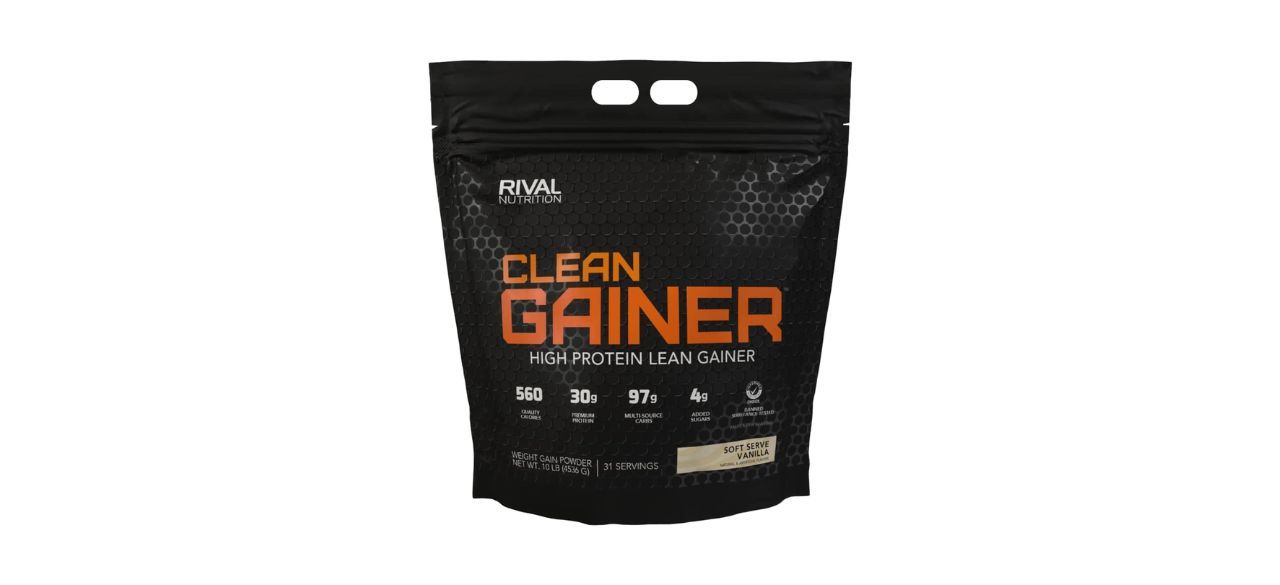 What you need to know: This extra-large package is great for keeping costs down if you already have a daily mass gainer drinking routine.
What you'll love: There are six flavors. It comes in either 5- or 10-pound packages, which include roughly 15 or 30 servings respectively. Each serving contains 560 calories, 30 grams of protein, 97 grams of carbohydrates and 4 grams of sugar.
What you should consider: A few customers found the flavors too sweet, even when severely watered down. Others felt bloated or gassy after taking some.
Where to buy: Sold by Amazon
Worth checking out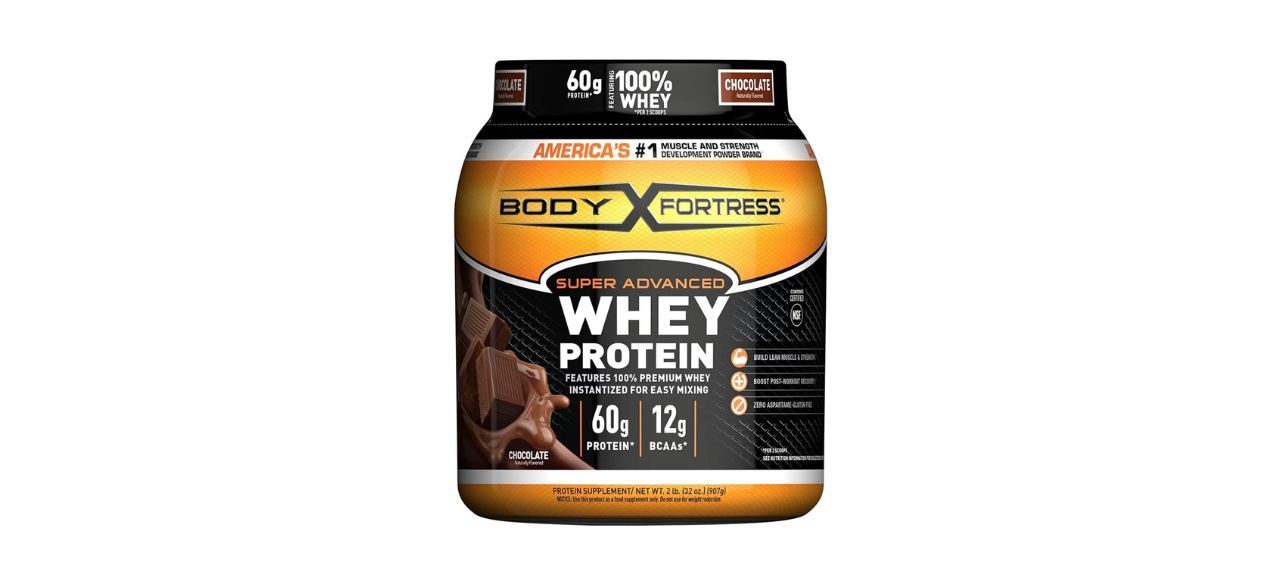 Body Fortress Super Advanced Whey Protein Powder
What you need to know: This powder is perfect for shedding excess bulk without losing muscle mass.
What you'll love: It has 10 two-scoop servings that each pack in 60 grams of protein, 12 grams of amino acids, 15 grams of carbohydrates and 5 grams of sugar. The chocolate peanut butter flavor mixes with a glass of milk to serve as an excellent breakfast.
What you should consider: Some consumers had issues getting the powder to fully dissolve, leading to a grainy at best, or chunky at worst, drinking experience.
Where to buy: Sold by Amazon
Want to shop the best products at the best prices? Check out Daily Deals from BestReviews.
Sign up here to receive the BestReviews weekly newsletter for useful advice on new products and noteworthy deals.
Jordan C. Woika writes for BestReviews. BestReviews has helped millions of consumers simplify their purchasing decisions, saving them time and money.
Copyright 2023 BestReviews, a Nexstar company. All rights reserved.