This is an archived article and the information in the article may be outdated. Please look at the time stamp on the story to see when it was last updated.
Our children are back in school, but one subject they won't learn much about in class is money!
And while there's no class for budgeting or financial literacy in school, it's easy to get kids started at home.
Financial literacy coach Angela Hill is here with the three things parents should teach children about money early on.
3 Things to teach Children about Money Early
Start saving small with change:
Ask for the change from parents from groceries or other shopping
Make a bank at home using shoe box, jars (parents can make this fun by helping them design their own banks)
Once you start working, pay yourself 10 percent and open up a savings account and use it for savings only
Set goals for your savings:
College funds
Investments
Buy first car
Start a small home business
Be consistent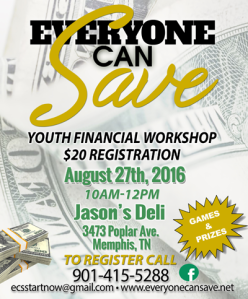 Saturday, August 27
10 a.m. – Noon
Jason's Deli
3473 Poplar Ave.
(901) 415-5288