This is an archived article and the information in the article may be outdated. Please look at the time stamp on the story to see when it was last updated.
Watch Love Work
Doctor Martin Luther King said "love is the key to the problems of the world" and a new film series allows you to "Watch Love Work" right here in Memphis. It is a true testament to the power of love.
Alison Wetter and Dorian Spears are here to explain.
Stop smoking
As if it's not enough of a struggle to stop smoking, those who do often have to also battle weight gain. But you can quit and still be fit.
Dr. Rebecca Krukowski is with the Department of Preventative Medicine at U.T. Health Science Center.
New sleep apnea treatment
The most common treatment for sleep apnea is the CPAP machine, but now there is a new option. Dr. Alan Blanton from the U.T. Health Science Center explains what it is on Live at 9.
Watoto Performing Arts Academy
Performing arts students on a historic tour across the South are here in Memphis to spread a message. The Watoto Performing Arts Academy is in town to honor the vision of Dr. Martin Luther King Junior with the "Love Everybody Production."
Furry Friend of the Week
It's time to meet a furry friend up for adoption at Memphis Animal Services.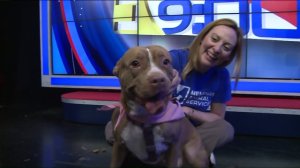 Two -year-old Precious was brought to the shelter after her previous owners moved and left her behind. She's now looking for a forever family to call her own.
Precious weighs about 50 pounds, but we're told she's very sweet and calm. She will probably be a little shy at first, but is sure to warm up quickly if you sweet talk her. She doesn't seem to have a problem with other dogs.
If you are interested in her, give MAS a call at (901) 636-1416.