This is an archived article and the information in the article may be outdated. Please look at the time stamp on the story to see when it was last updated.
Cooking Consultant Gail Churinetz brought one of her best recipes that you can make for a special July 4th treat!
Roasted Red Pepper Hummus
1 15 ounce can garbanzo or cannellini beans, drained & rinsed
½ lemon, freshly squeezed, or 1 tablespoon lemon juice
1/3 cup tahini
2 cloves fresh garlic
1 7 ounce jar roasted red peppers, drained
½ tsp. salt
½ tsp. lemon pepper
½ tsp. ground cumin
2 tablespoon extra virgin olive oil
Instructions:
Place all ingredients in bowl of a food processor, blend until well combined, about 1-2 minutes.
Serve with crackers, chips or with fresh vegetables.
Rob's Favorite Charbroiled Oysters
1 dozen oysters, cleaned and steamed open*
Compound Butter:
1 ½ sticks of butter, softened
1/3 to ½ cup parmesan cheese, grated
¼ cup fresh flat leaf parsley
2 cloves garlic, whole
½ teaspoon Spice Islands® Lemon Pepper
To prepare compound butter:
Place butter in the bowl of a food processor and process until smooth. Add remaining ingredients and process until well combined, scraping down bowl as needed. Divide butter into 12 servings, 1 tablespoon each, for topping on oysters. Left over butter can be kept in the freezer for up to 6 months.
Heat the grill to medium high.
Place oysters on the grill, shell side down. Cover grill and cook oysters for 2-3 minutes. Place one tablespoon of butter on top of each oyster. Cover grill and continue cooking an additional 2-3 minutes.
*To clean, place oysters in a colander in a sink and rinse under cold running water.  If necessary, scrub off any mud and debris with a scrub brush.
Put oysters in large pot and cover bottom of pot with 1/2 inch of water. Cover pot and bring water to a boil. Cook 6 minutes, being careful water does not boil over. Oysters will be open and ready for further preparation.
Fruit Kabob Flag
http://www.cookingmom.com/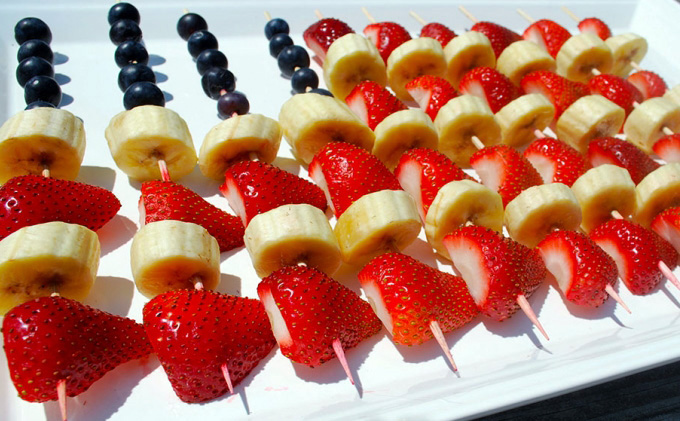 Ingredients:
17 to 20 strawberries, washed and cut in half
1/2 pint of blueberries
3 to 5 bananas, cut into slices
10 thin wooden skewers
Directions:
Assemble fruit on skewers. Use the picture as your guide. Place on large platter or cookie sheet to look like a flag.