This is an archived article and the information in the article may be outdated. Please look at the time stamp on the story to see when it was last updated.
We are making your dessert dreams come true today!
You can sample Memphis' best chocolate desserts, candies, cookies, ice cream and pastries all in one location at the Chocolate Fantasy.
Chef Alyce Mantia is here with Mable Barringer from the National Kidney Foundation of West Tennessee.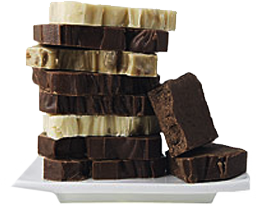 CHOCOLATE "PUFFLE" WITH RASPBERRY GARNISH
½ package (one sheet) frozen puff pastry, thawed
¼ cup mascarpone cheese
¼ cup semi-sweet mini chocolate chips
Whipped cream
1 pint raspberries
½ cup raspberry balsamic vinegar
Place the thawed puff pastry on a lightly floured surface and roll out lengthwise until just under twice the size of your waffle iron. Spread the mascarpone cheese over half, leaving a ½ inch margin around the outside edges. Sprinkle the chocolate chips evenly over the mascarpone. Fold the other half over. Moisten the edges and crimp to seal. Chill for at least an hour. When ready to serve, pre-heat the waffle iron. Center the puff pastry on it and close. Cook until the pastry is browned and crispy. Divide into four squares. Top with whipped cream and raspberries and drizzle two tablespoons of raspberry balsamic over each one. Serves four.
NOTE: If you don't have a waffle iron, a panini grill will also work. If you don't have either, cut the puff pastry into four equal rectangles before filling. Proceed as above, then place the filled rectangles on a baking sheet. Cook in a preheated 375o oven for about 10 minutes, until golden brown.