This is an archived article and the information in the article may be outdated. Please look at the time stamp on the story to see when it was last updated.
MEMPHIS, Tenn. — It's 7:31 a.m. when WREG's Richard Ransom met Mayor Jim Strickland at his home in East Memphis.  Each day, the mayor drives himself to work in his used 2006 Honda Pilot, sometimes making a stop at his child's school to drop them off.
As they left his neighborhood near Poplar Avenue and Highland, the mayor told WREG even after the election, he never considered moving into a gated community.
"It's close to everything. The only downside is making a left turn on Poplar during rush hour."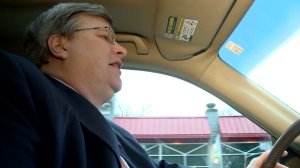 The drive downtown gave us insight about the former City Council member, who gave up practicing law to run the nation's 23rd largest city.  We learned everything from his favorite pizza joint to the fact he recycles his dry cleaning hangars.
Ransom even asked if it true he's the kind of detail guy who will call-in a pothole if he hits one.
"I do do that."
"Does that kind of thing bother you?"
"I do that. Grass in the median that we're responsible for drives me crazy," he added.
He repeated a mantra we've heard many times and one that has come to define his administration — Memphis city government needs to be "brilliant at the basics."
"Cut the medians every two weeks. Cut our parks. Pick up garbage. Fill potholes. Pave more streets. That's what we're paid to do."
The pair arrived at the city's parking garage by 7:52 a.m. A quick wave to security then on to the elevator for the ride up to the seventh floor. The lights hadn't even been turned on yet when they arrived.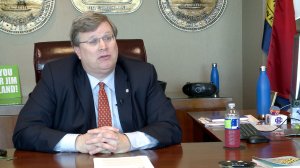 Less than two minutes later, the day started with an unexpected call — Shelby County Mayor Mark Luttrell asked for a private conversation.
After that, the mayor read some and sorted through a huge stack of city contracts that needed to be signed.
"This one is for 4 million dollars in paving," he said of one of the documents.
Then came word of an unexpected issue percolating in Washington — President Donald Trump could sign an executive order on sanctuary cities. It raised questions about whether it's a county sheriff's issue or a city issue.
"Our sheriff. The Shelby County Sheriff, I think. I'm not 100 percent sure that's true though."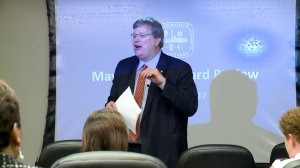 The matter continued to be discussed all day long, but by 9 a.m., the pair were downstairs for the mayor's monthly meeting with his directors. On this day, they went over the city's report card, measuring progress on all kinds of metrics.
There were cheers as the team learned the 911 response times and minority hiring had increased, while  blight went down.
The mood was upbeat.
"Other than violent crime we've improved on most every statistic in there so let's measure more and push ourselves to do more and more and more."
At 10:11, it's back upstairs to visit with Memphis Police Director Michael Rallings. The meeting started off with a laugh, but quickly turned serious.
"Well, boss, this is hot off the press."
The two combed through more graphs and charts from a new report showing a recent spike in violent crime in most major cities. They talked about new officer recruits, the effects of new gun laws, and that developing story in Washington.
"The President is going to issue an executive order today."
After that, the day picked up. An 11:30 news conference at Tom Lee Park to announce the new Riverfront Task Force, then a quick bite to eat in Uptown before heading to a 1 p.m. closed door meeting at the Chamber of Commerce about de-annexation.
Once that ended around 2:15, Mayor Strickland decided to pop- in to a Board of Adjustment meeting to show his opposition to a proposal that would allow LED billboards along city-owned streets.
Ten minutes later, they pair returned to the mayor's office for some time to talk.
"In the year you've been in office, what's been the biggest surprise? The thing you did not expect?"
"The number of homicides we had last year," he replied.
Strickland said he knows crime is his vulnerability, but said another issue we're facing is population loss.
"We need to grow this city. We need more jobs and more people living in this city."
But at the end of the day, Mayor Strickland wanted everyone to know he loves this city and what he does.
"I love this job. I love it every single day.  I know we're making a difference in a positive way and I want to keep doing it."