This is an archived article and the information in the article may be outdated. Please look at the time stamp on the story to see when it was last updated.
MEMPHIS, Tenn. -- On Monday, WREG discovered the 19-year-old accused of opening fire in Downtown Memphis with what police called an assault rifle early Sunday morning has a criminal history.
Kwasi Corbin, 19, is accused of shooting into a crowd at Second Street and Peabody around 12:30 a.m. Sunday.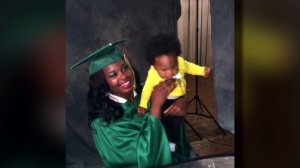 According to police, a bullet struck 18-year-old Myneishia Johnson and she died from her injuries.
Johnson, known by friends as Shugnug, was a mother to a 1-year-old boy and was out celebrating her upcoming graduation from Booker T. Washington High School.
Two men, Courtney Abston and Deire Williams, were sent to the hospital in critical condition.
On Monday, those who know Corbin weighed in on his arrest.
"Every time I watched the news and would see something about a robbery or a carjacking, I don't know why Kwasi would always pop up on my mind," said Shirley Mull.
Mull used to live by Corbin.
If you look at his public Facebook page, there are videos of him rapping with explicit language, holding numerous guns and calling himself 'Kwasi the shooter.'
He is also seen flashing wads of cash.
"I wasn't expecting him to go to jail. I was more or less in my heart seeing Kwasi getting killed for some of the things you out here in the street doing," said Mull.
Mull said she tried to mentor Corbin but felt it was a lost cause.
"Just stay in school. Stop all this stuff."
WREG learned Corbin had several warrants out for his arrest.
In July, police documents showed Corbin attacked a girl on Knight Arnold near Perkins.
He reportedly hit her in the back of the head and face while she was begging him to stop.
Several months later, Corbin was sitting on the couch with another girl when she asked him to move over.
Corben got upset and reportedly began punching her in the face and kicking her while she was on the ground.
When a friend came to her aid, she grabbed a knife in defense.
It was at that point, Corbin allegedly drew a gun on her and threatened to kill her.
According to police records, in September he attacked a boy he was playing basketball with and threatened to shoot him.
Corbin was also wanted for a domestic assault charge from March in which he attacked his ex-girlfriend when she said she wanted to end the relationship.
He reportedly hit her in the face, kicked and even bit her.
Mull said he had other run-ins.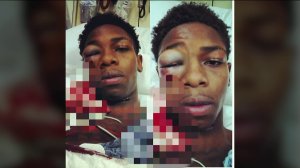 "He got shot last year. He got shot in the eye."
Corbin posted a picture of the incident on his Facebook page.
Monday morning Corbin appeared before a Shelby County judge. Other neighbors who know him said they feel a little safer he's off the streets.
"He used to stay right there. Could've been one of my kids. Could've been outside, could've been shootin' bullets go everywhere," said Kyle Walton, a former neighbor.
Corbin does not have a bail and is set to appear before a judge May 31.