This is an archived article and the information in the article may be outdated. Please look at the time stamp on the story to see when it was last updated.
MEMPHIS, Tenn. — A 15-year-old boy is fighting for his life after allegedly being shot by his sister's ex-boyfriend Saturday night.
Felisa Suggs says she received a call from her 15-year-old son James Webb, who was pleading for her help.
"He was actually crying, saying that he was shot and he was by the pyramid. He said, 'Come on. Come on."
She raced to find him, but when she pulled up she only saw a car with a flat tire that was caused by gunshots. It was sitting in the middle of a downtown street without him in it.
With a gunshot wound to his back, and with the help of his cousin, Webb raced for help at the Sheraton Hotel.
Webb's sister, Jermaika Valentine, was with her brother before he was shot.
She said it all started over her 9-month-old baby boy.
"To shoot around my baby, that means he doesn't have a care in the world for my child's safety."
She told her child's father, Jermaal Dotson, she was coming to pick up her son, which sparked an argument.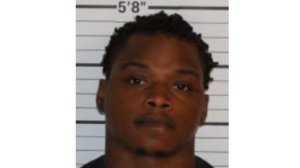 "He walked up to my little brother and cousin and was like, 'So, what's up with y'all? What do y'all have going on? I told y'all when I see y'all, I was going to hurt you."
They then started fighting.
Valentine says she heard Dotson ask for his gun, then shots erupted with her baby inside of his house and her brother racing to get away.
She waited for police at the scene.
"He didn't shoot in the air. He was close to their car, shooting at my son. He was trying to kill my son. He didn't shoot one, two or three times. He shot nine times at the car," Suggs said.
She says Webb is an honors student and just made the high school basketball team.
Now, he has a tube in his lungs that's draining his blood and is unable to walk.
But Suggs says he will begin the healing process soon.
The victim's sister says Dotson had just obtained the right to keep his child on the weekends on Tuesday.
But she fears her ties to Dotson aren't good her or her family's safety.
Webb's sister also tells us this is not the first time something like this happened.
Dotson also shot at his own grandfather while her baby was present.
That's why she says, for now on, the only way she would feel comfortable letting him see his son is if someone she trusts is supervising him.