This is an archived article and the information in the article may be outdated. Please look at the time stamp on the story to see when it was last updated.
PANOLA COUNTY, Miss. —  One woman was killed and her daughter arrested after a shooting Sunday night in Panola County.
The Panola County coroner said Pearlie Hamilton was shot Sunday night around 9 p.m. in front of her home on Fudge Town Road.
Her daughter, Labraysha Hamilton, 23, is charged with murder and will appear before a judge Tuesday.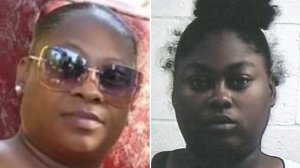 Multiple people at the home Monday said the two had a history of arguing. Deputies have been called to the house in the past, but nothing ever escalating to this level of violence.
It's unclear what sparked the fight. Deputies would only say it was a domestic violence call.
This shooting is now the latest to rock the small county. Back in May we told you about a shooting just three and a half miles from where this mother was gunned down. In that case a man was killed off Springport.
In March another man lost his life in Courtland. Investigators say that victim knew his attacker.