This is an archived article and the information in the article may be outdated. Please look at the time stamp on the story to see when it was last updated.
MEMPHIS, Tenn. — Police are investigating after several Shelby County Schools were tagged with graffiti overnight.
A vulgar, threatening message was spray painted across the entrance to White Station High School around 11 Monday night.
"Yall not safe," one message read. School officials say it was the work of "four young people."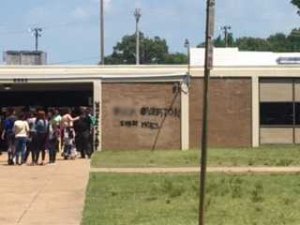 That tag was removed, but Overton High School and other schools were hit.
"I am disappointed that someone did that," parent Angelina Folkes- Lallo said.
In a tweet Tuesday, SCS said there would be increased security around schools Tuesday.
"Please know that all of our students are SAFE. Authorities are still investigating the reports, but there have been no incidents connected to the vandalism today in any of our schools," the district said.
"I don't like to hear them say, 'Mom. I was scared.' or 'This is what happened today at school," a parent said. "That is scary and actually terrifying."
But not all parents share that feeling.
"They've never led us wrong. Whenever something happens at the school they always make us aware of it."
In a recorded phone message to parents Tuesday, White Station officials said:
"Good morning I'm calling with an update about graffiti you may have heard about last night.
At approximately 11 pm four young people spray painted some vulgar messages on the front of our school. At this time we have no evidence to substantiate a legitimate threat to the school.
There appears to be no direct connection to what we sent home yesterday but the incident is under investigation by law enforcement we want you to know our students are safe in class this morning. We have already alerted authorities to investigate this and maintenance crews are on the way to remove graffiti.
Again, and most importantly, we wanted you to know our students are safe. Safety is of course our top priority so be assured that we will continue to notify if there are any safety related matters on our campus."
Sunday, a 17-year-old was arrested after an investigation involving the FBI for allegedly making threats against White Station. The school said the incidents do not appear to be related.