This is an archived article and the information in the article may be outdated. Please look at the time stamp on the story to see when it was last updated.
[protected-iframe id="53a94a9fd3f9daafee481e0448174194-29519520-12543204″ info="//z.cdn.turner.com/cnn/van/resources/2.1/scripts/van-widgets.js" ]
SALT LAKE CITY, Utah — Eleven-year-old Tannah Butterfield spent the last two years wishing the judge would make her foster parents her forever parents.
"They are just caring, loving, take good care of me," she said.
And then last Monday, Miss Jackie, the office manager at her school, walked in with amazing news.
"It's the biggest thing that ever happened to me," Tannah said.
Miss Jackie told her that her adoption had been finalized.
"I grabbed her shoulders and said, 'Have you heard the news baby? You get your forever family," Jackie Alexander said.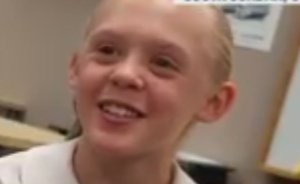 Tannah was so happy she couldn't let go of Miss Jackie.
"My heart was so happy. It was like 'ah!' It was like screaming."
Tannah's mom, Jennifer Fisher, is grateful the school security camera recorded the moment.
"I just thought oh, my gosh. We did the right thing," she said.
It was so beautiful, Miss Jackie shared the video.
"I just needed to let people know there's a lot gong on in the world and there's a lot of sadness that we see, but you know what? There's joy that happens every day," Alexander said.
Tannah hopes people watch this and remember that if you wish for something long enough, it may just come true.
"Never, ever, ever give up," she said.
https://www.instagram.com/p/BZw9mQbFgt5/