This is an archived article and the information in the article may be outdated. Please look at the time stamp on the story to see when it was last updated.
MEMPHIS, Tenn. -- A violent sex offender is locked up after witnesses said he pulled a young girl into his home while she kicked and screamed.
Jerome Sawyer is facing charges for violating the sex offender registry act.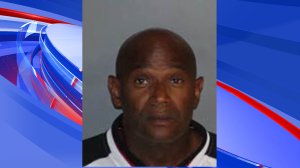 It happened on Waring in Berclair on Wednesday night.
Police were called to his home and say they found a young girl hiding behind a bed in Sawyer's bedroom.
His neighbor told WREG he called 911 when he saw the little girl dragged from a silver car into Sawyer's house.
"The girl was screaming. Screaming bloody murder and going up to the door. I said something isn`t right," said Richard Wright.
Police are now trying to find out what exactly happened in Sawyer`s home and why the girl was there in the first place.
Meanwhile, the Tennessee Department of Corrections was alerted about the arrest and added another mark to Sawyer's lengthy record.
WREG went through his case files dating back to 1987 when he pleaded guilty to aggravated sexual battery involving three girls under 13 years old.
Then nearly a decade later, a jury found him guilty of sexually assaulting a six year old girl.
He got out of prison in 2015 and was back on our newscast one year later when a group of kids as young as five years old were in his van.. leaving a park next to Winridge Elementary School.
Court documents state He pleaded guilty earlier this year to violating the sex offender registry act and got sixty days in prison. In June, he was walking free.
"It's a crying shame," said Wright.
He said he knew Sawyer was a registered sex offender, which is another reason why he called police.
"That's just wrong. Got tears in my eyes. I hope you`re not filming that," he said.
WREG learned Sawyer had been meeting with a probation officer. In fact, he just met with one two days before his arrest.