This is an archived article and the information in the article may be outdated. Please look at the time stamp on the story to see when it was last updated.
LAS VEGAS — Law enforcement officials are still trying to figure out why a man, with no prior arrests, opened fire on a concert in Las Vegas Sunday night, leading to the deadliest mass shooting in modern U.S. history. In all, 59 were killed and more than 500 injured.
Throughout the world, vigils were held to remember the victims. In Paris, the Eiffel Tower went dark, but the Empire State Building remained lit but only with a rotating halo for gun violence awareness.
There were tributes throughout the day, throughout the world for the victims of Sunday night's shooting in Las Vegas.
Police said the suspect, 64-year-old Stephen Paddock, broke windows on the 32nd floor of the Mandalay Bay Hotel Sunday night then opened fire on a crowded Route 91 Harvest Festival, where country music star Jason Aldean was performing for more than 22,000 fans.
When police stormed his room, breaching the door, Paddock was already dead.
Heavily armed police searched Paddock's home Monday in Mesquite, about 80 miles northeast of Las Vegas near the Arizona border, looking for clues. Paddock lived there with his 62-year-old girlfriend, who authorities said was out of the country when the shooting happened.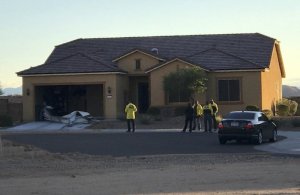 "We have recovered 23 firearms at Mandalay Bay and 19 firearms at his home in Mesquite," Las Vegas Police Department's Assistant Sheriff Todd Fasulo told reporters.
Police also searched a two-bedroom home Paddock owned in a retirement community in Reno, 500 miles from Mesquite.
While ISIS has claimed responsibility for the attack, law enforcement said it hasn't found any connection to back up that up, nor anything else in his background that would suggest he was capable of such unparalleled slaughter.
Clint Van Zandt, a former FBI hostage negotiator and supervisor in the bureau's behavioral science unit said so far, said Paddock doesn't seem like a typical mass murderer. He is much older than the typical shooter and was not known to be suffering from a mental illness.
There were also no hint of financial distress or criminal history, though people who knew him said he was a big gambler.
"My challenge is, I don't see any of the classic indicators, so far, that would suggest, 'OK, he's on the road either to suicide or homicide or both," Van Zandt said.
The shooter's brother insists Paddock had no religious affiliation, nor any political agenda.
"He has no history of violence in any way, shape, or form," Eric Paddock stated Monday.
"No affiliation, no religion, no politics. He never cared about any of that stuff," he added as he alternately wept and shouted. "He was a guy who had money. He went on cruises and gambled."
"I can't even make something up…There's just nothing."
The brother also told The Associated Press that he had not talked to his brother in six months and last heard from him when Stephen checked in briefly by text message after Hurricane Irma. However, their mother had spoken with Stephen Paddock about two weeks ago.
Nevertheless, his actions suggest that he had planned the attacks for at least a period of days.
Some of the rifles had scopes, the sheriff said. And authorities found two gun stocks that could have let him modify weapons to make them fully automatic, according to two U.S. officials briefed by law enforcement who spoke on condition of anonymity because the investigation is still unfolding.
Among the items recovered from Paddock's car was several pounds of ammonium nitrate — a fertilizer that can be turned into explosives.
"He knew what he wanted to do. He knew how he was going to do it, and it doesn't seem like he had any kind of escape plan at all," Van Zandt said.
While Stephen Paddock appeared to have no criminal history, his father was a notorious bank robber, Eric Paddock confirmed to The Orlando Sentinel. Benjamin Hoskins Paddock tried to run down an FBI agent with his car in Las Vegas in 1960 and wound up on the agency's most wanted list after escaping from a federal prison in Texas in 1968, when Stephen Paddock was a teen.
The oldest of four children, Paddock was 7 when his father was arrested for the robberies. A neighbor, Eva Price, took him swimming while FBI agents searched the family home.
She told the Tucson Citizen at the time: "We're trying to keep Steve from knowing his father is held as a bank robber. I hardly know the family, but Steve is a nice boy. It's a terrible thing."
An FBI poster issued after the escape said Benjamin Hoskins Paddock had been "diagnosed as psychopathic" and should be considered "armed and very dangerous." He'd been serving a 20-year sentence for a string of bank robberies in Phoenix.
The elder Paddock remained on the lam for nearly a decade, living under an assumed name in Oregon. Investigators found him in 1978 after he attracted publicity for opening the state's first licensed bingo parlor. He died in 1998."