This is an archived article and the information in the article may be outdated. Please look at the time stamp on the story to see when it was last updated.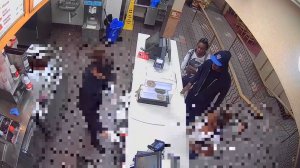 MEMPHIS, Tenn. —  Two young adults are on the run after employees at a local Wendy's say they lunged for the open register after ordering a sweet treat.
The pair entered the Kirby Parkway establishment on March 22 and told the worker they wanted a frosty. When the cashier opened the register to complete the transaction, the suspects allegedly grabbed for the money and took off following a physical altercation with the employee.
The suspects then took off, heading eastbound toward Kirby.
[protected-iframe id="31c184a0753616999f680c2b6d6aa992-29519520-83897481″ info="https://www.facebook.com/plugins/video.php?href=https%3A%2F%2Fwww.facebook.com%2Fwreg3%2Fvideos%2F2126529650709063%2F&show_text=0&width=560″ width="560″ height="313″ frameborder="0″ style="border:none;overflow:hidden" scrolling="no"]
The man is described as 20 to 25 years of age, 6'0″ and approximately 150 pounds. He was wearing a black shirt, black jacket, sandals and a blue hat.
The female suspect was around the same age, 5'6″, 110 pounds with long braids, grey pants, white shirt and black shoes.
If you can help identify them, call Crime Stoppers at (901) 528-CASH.