This is an archived article and the information in the article may be outdated. Please look at the time stamp on the story to see when it was last updated.
MEMPHIS, Tenn. -- Memphis Police were at the Villas of Cordova for several hours Wednesday morning investigating a domestic violence disturbance involving one of their own.
Relatives of the victim said this is nothing any family should have to deal with.
"I don't know what happened last night, but it seemed to have gotten kind of hectic and out of hand."
Alvin Jones said he and his wife were jolted out of bed when their daughter — who is an undercover police officer — called and said her boyfriend was trying to kill her.
Along with police, he made the scene to find out what was going on.
"They became friends through work and after that they ended up living together and in a relationship and as of last night it got out hand."
Police said they responded to two disturbance calls at the home Wednesday morning.
The second time they took the suspect into custody after they were told he was possibly armed and making threats against the woman.
Police wouldn't say if they found a weapon.
Relatives are just thankful no one was hurt.
"I'm glad she is OK. I'm glad he's OK and I hope he able to deal with whatever issues he has going on."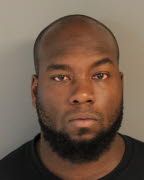 Relatives said the suspect, Markeseo Jackson, was fired from the police department for similar problems in the past.
He is now charged with assault, domestic assault causing bodily harm, resisting official detention and vandalism $500 or less.
The victim's brother said it never should have come to this.
"If it's not going to work out just leave it alone. Walk away please."