This is an archived article and the information in the article may be outdated. Please look at the time stamp on the story to see when it was last updated.
SHELBY COUNTY, Tenn. — Shelby County Sheriff's deputies solved two crimes at once, catching a pair of accused car thieves thanks to technology and a little bit of luck.
Deputies say Darion Alsobrooks and Amadou Sy, both 20, each stole someone's car at gunpoint this week.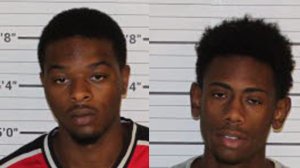 The key to solving both crimes was Onstar, a service available on some models of vehicles and by subscription. One of the victims, who lives in the Westbury Apartments near Winchester and Hacks Cross, has the service in her car.
Deputies used it to track her vehicle, and they found the other car they were looking for, too.
It all started Thursday around 1 a.m. when Sy allegedly stole Gabrielle Chapman's car keys at gunpoint while she was walking to her apartment.
Investigators say he took off in her Camaro, so deputies used the vehicle's Onstar service to track it to a house nine miles away in Parkway Village. That's when deputies spotted a Volkswagen Passat stolen two days before.
Deputies say Alsobrooks stole the Passat by carjacking a man at gunpoint at a gas station in the airport area. They say Sy and Alsobrooks worked together out of the Parkway Village house, and drove the Passat to southeast Shelby County where Chapman was allegedly robbed.
Deputies say Chapman's phone was also stolen and ditched in a Costco parking lot nearby. They used the Find my iPhone app to track it down.
Alsobrooks is in jail charged with aggravated robbery, carjacking and possession of a firearm in commission of a felony. Sy is currently charged with facilitation of robbery. His mugshot was not available.