This is an archived article and the information in the article may be outdated. Please look at the time stamp on the story to see when it was last updated.
MEMPHIS, Tenn. — A convicted felon has been arrested and charged in connection with a shooting Friday night in Frayser that killed one man and left another in critical condition.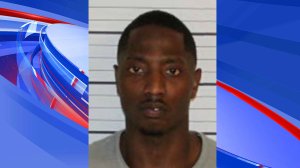 Police say they arrested Artavious Holmes, 24, on several charges, including first-degree murder, attempted second-degree murder, employing a firearm during commission of a dangerous felony and being a convicted felon in possession of a firearm.
The shooting happened around 8:30 p.m. on Haywood Avenue near Steele Street, and according to the arrest affidavit, it stemmed from a dice game gone wrong.
Police say one victim was found shot in his car at Haywood and Steele and the second victim was found dead at Steele and Frayser Boulevard.
"I was leaving my house and I was going to the dog track – that's where I was going, to the casino – and I just seen the police down here on Steele and I just kept on going," said neighbor Henry Ivy.
According to court records, witnesses say Holmes got into an argument with one of the victims during a dice game outside his Haywood Avenue home.
But when that man and the other victim decided to leave, police say Holmes gunned one man down in his car, then shot the other repeatedly when he tried to run.
"Put the guns down and get it together," Ivy said. "If you've got a problem, let's talk about it, you know? Sit down and discuss it."
Neighbors say they knew it was serious when investigators blocked off most of the street and stayed on scene for five hours.
"Probably somebody got shot or killed 'cause that's usually what happens when the tape be all up," James Shaw said.
Holmes has been in and out of jail since he was 18.
Online records list eight other arrests in Shelby County since 2012 on aggravated burglary, domestic assault, drug possession, car theft, evading arrest and robbery charges.
Holmes spent three years in jail for the robbery conviction, only to be released and arrested again last fall.
"Everybody needs to get it together and we wouldn't have these murders and stuff like that in Memphis. 'Cause we don't need crime," Ivy said. Everybody should get along on the neighborhood."
No one answered at Holmes' house when WREG stopped by Saturday, but his 60-year-old neighbor had this message to share: "They need to straighten their life up 'cause life's too short to go through that," Shaw said. "Try to live your life full as you can, like I have."
Police tell WREG they'll release the victims' names once they've had a chance to notify their families.
Online court records don't list a bond amount or court date for Holmes.