This is an archived article and the information in the article may be outdated. Please look at the time stamp on the story to see when it was last updated.
MARSHALL COUNTY, Miss. — One person died and another was injured in a wreck involving a logging truck and a pickup carrying strawberries, Marshall County authorities said Thursday morning.
Rescue crews were on the scene at Highway 302 and Cayce Road around 8:45 a.m.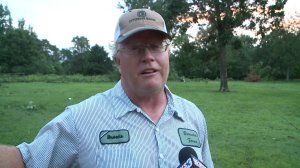 Sources close to law enforcement said the victim was Brooks Brownlee, who was taking a load of strawberries to Red Banks.
Brownlee was a family man, pillar of the community and very well loved, the sources said.
Brownlee Farms is a strawberry farm in Red Banks. The Farm's Facebook page indicated they would be closed until further notice due to a family tragedy.
"When you see this thing. You know there was loss of life," said witness Mike Garrison, who lives near the intersection of Highway 302 and Cayce.
Garrison says wrecks and traffic at the intersection are an ongoing problem.
"This happens almost every week. In the last three weeks there's been some serious accidents," he said. "From seven to nine in the morning and from 4 to 6 in the evening, this is one major intersection, because there's so many factories here. This is where everybody crosses the line."
The pickup that collided with the logging truck was hauling strawberries in the bed. Strawberries all over the interstate @3onyourside pic.twitter.com/i9v2Nm3AEL

— Shay Arthur (@ShayA_WREG3) June 7, 2018
Early reports were that two people died. The Marshall County Sheriff later clarified, saying the driver of the pickup was dead and the driver of the logging truck had been taken to a hospital.
The wreck tied up traffic on the highway both directions for hours.
[protected-iframe id="da2fcc061ae14e445e730367f877bd4b-29519520-12543204″ info="https://www.facebook.com/plugins/post.php?href=https%3A%2F%2Fwww.facebook.com%2Fpermalink.php%3Fstory_fbid%3D1952223791463092%26id%3D115162165169273&width=500″ width="500″ height="174″ frameborder="0″ style="border:none;overflow:hidden" scrolling="no"]