This is an archived article and the information in the article may be outdated. Please look at the time stamp on the story to see when it was last updated.
WEST MEMPHIS, Ark. — West Memphis Police say three people were killed and another was hospitalized in two overnight shootings.
Investigators say they don't know yet if the shootings are connected.
First-degree murder warrants have been issued for Raheem Stackhouse and Reginald Smith, both 23, in connection to the first shooting.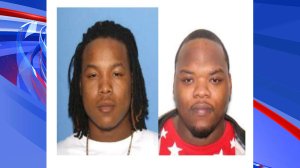 It happened around 1:30 a.m. inside 2nd Chance Automotive Repair and Body Work on East Broadway, West Memphis Police Capt. Robert Langston said.
According to a sign on the front of the building, it doubles as a club for private events. Witnesses say they were attending a party at the time.
A flyer posted to Facebook Friday night showed that the shop was the venue for a concert by Memphis rapper Kevo Money.
"Just vibin', playing music and stuff and just took a wrong turn. Just stuff went south," said witness Dquinton Patterson. "And all of a sudden you just hear, 'boom boom boom boom boom,' like repetitive fire. So, my instinct was automatically to get on the ground so I wouldn't get hit by a stray bullet. And they're just continuing shooting… It was like a movie scene or something."
Police say three men were shot at the club. One was pronounced dead on the scene and another died at Regional One.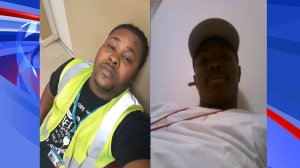 A third man was taken to the hospital, but investigators say he will be OK.
Police haven't released the victims' names, however, Patterson tells WREG he knew both of the men who were killed. He identified one as Nathaniel Henderson, who went by Kingboohead Henderson.
Loved ones on social media identified the second victim as JuWuan McClendon, who was known as Wuan Hunned.
McClendon posted a short video from the club to his Facebook story just minutes before the shooting.
In 2018, people in the neighborhood rallied, in front of the building, pleading for an end to the all the violence after a Forrest City police officer was gunned down in a drive-by in his West Memphis apartment.
"It's like a repetitive cycle, like it's non-stop," Patterson said. "Like it's just getting worse by the looks of it."
The business gives felons a second chance by training them and giving them jobs. Its owner founded Streets Sense, a group aimed at keeping kids out of gangs and violence out of the city.
Around 4 a.m. Saturday, hours after the first shooting, police say a woman was shot to death at a home on Oxford.
"We just hear a lot of 'pop pop pop pop pop pop pop pop pop pop pop pop pop.' Holes was all in the wall, windows bursted [sic] out, TVs bursted [sic] out, babies crying," said Krisheena Cannady, who lives in the home with her four children.
Cannady tells WREG that the victim was a 23-year-old mother of two who was friends with her sons, and that they were playing video games in a bedroom when she was hit in a drive-by.
She believes whoever did it thought that the victim was involved in the shooting on East Broadway, but says that's not true.
"She had not did anything, she don't know what's going on," Cannady said. "She was an innocent bystander killed. Life taken away with no reason at all for something that nobody in that home had anything to do with."
Cannady says the entire thing was caught on surveillance video, which she says police took as part of their investigation.
In the meantime, she says she's not taking any chances. She tossed all of her furniture onto the curb Saturday morning and said that she and her kids would be moved out by the end of the day.
"I'm packed, I'm gone," she said. "I don't want nothin' out the house. I'll start over fresh. I just want my family and we're gonna leave 'cause we're gonna start over new."
Investigators haven't named any suspects in the second shooting.
They say Smith and Stackhouse should be considered armed and dangerous.
WMPD is asking anyone with information to call Crime Stoppers at (870) 732-4444 or WMPD at (870) 732-7555.