This is an archived article and the information in the article may be outdated. Please look at the time stamp on the story to see when it was last updated.
MEMPHIS, Tenn. — Not sure what to get your college student for the holidays? Read on for 20 great gift ideas.
Home beer brewing. Craft beer is having its moment in the U.S., and this kit will get beer enthusiasts started brewing their batches.
Beauty in a box. Julep is a customizable beauty subscription that sends a box of full-size beauty products every month. The gift recipient will take a style quiz to create her style profile, and Julep will take care of the rest. Each box includes over $40 worth of new beauty products.
Bottle cutter kit. With this kit, students can cut bottles and jars and then use their imagination to turn them into candles, terrariums, vases or other functional art.
Edible stocking stuffer. Buy a box of yummy bars from This Bar Saves Lives, which come in flavors like dark chocolate cherry and sea salt, and wild blueberry pistachio ($25). With every bar purchase, the company gives a packet of food to a hungry child.
Sentimental pillow. If you've saved your child's artwork since he or she could hold a crayon, turn one of those drawings into a handmade, canvas pillow through an order with this Etsy provider ($38).
Guys' clothes delivered to their door. Trunk Club is a premium clothing service that pairs a guy with a personal stylist who finds the best clothes to fit his style, budget and existing wardrobe. There are no membership fees, returns are free and there is no minimum purchase.
Clever party game. Odious Lists is an R-rated version of the classic party game Scattergories. Pick a letter of the alphabet, and then come up with answers for prompts like, "I'd never date someone who is [blank]" ($27).
Video bundle. PlayStation 4 500GB Console also includes a digital voucher for the new Star Wars Battlefront, as well as digital vouchers for four Star Wars classics ($399).
Fitness tracker. The Fitbit Surge Fitness Superwatch is a tricked-out fitness watch that measures steps, distance, calories burned, active minutes, monitors your sleep and includes GPS tracking ($230).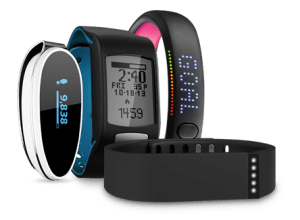 Functional jewelry. It can be difficult keeping track of hair ties, but this bracelet from Bittersweet allows the owner to include any hair tie in this attractive bracelet ($45).
Handmade leather goods. You'll find monogrammed leather travel tags, wallets, notebook leather portfolios, passport covers, key chains and more that are made in Huntsville, AL ($15 and up).
Compact portable charger. No need to have a phone die with this extremely popular charger, which is shaped like a tube of lipstick. It can charge an iPhone or other smart phone on the go. A great stocking stuffer ($10).
Multiple-device charger. Electric sockets can be in short supply in a dorm room. The Anker 5-Port Desktop USB Charger will charge up to five devices at once ($26).
Stylish sunglasses. Warby Parker's boutique-quality glasses and sunglasses are timeless and flattering. Starting at $95.
Cool watch. Check out this rose-gold watch from Kate Spade ($168) and a polka-dot watch from the same designer ($175).
Fashionable backpack. This stylish Zara backpack with a foldover flap also has a handle and adjustable straps ($30).
Unique planter. Succulents are hot, and they will look great in this cement stair planter from Budd+Finn ($21.50).
Conversation starter. TableTopics, which has sold more than 2 million copies, includes thought-provoking questions to inspire the best kinds of conversations at parties, in dorm rooms or any time someone wants to break the ice ($25).
Water Garden. In this garden/fish bowl ecosystem, you can grow basil, mint and other greens on top and watch a betta fish swim below in the three-gallon tank. ($60).
Gift certificates. Here are some suggestions: massage, haircut, PlayStation Store, GameStop, Chipotle, Starbucks, Panera Break and Urban Outfitters.