This is an archived article and the information in the article may be outdated. Please look at the time stamp on the story to see when it was last updated.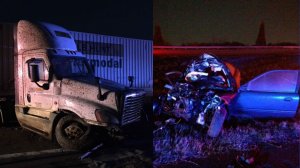 MEMPHIS, Tenn. — A crash on Bill Morris Parkway/ State Route 385 shut down lanes in both directions near Hacks Cross Road for several hours Tuesday morning.
WREG has learned two cars and an 18-wheeler where all involved in the crash, which was reported around 4:40 a.m.
Initial reports indicate a Honda Civic was traveling eastbound when it ran into the back of a SUV. The driver of the Civic lost control and went across the median into the westbound lanes.
An 18-wheeler traveling westbound tried to avoid the car and fish-tailed on the interstate.
The Civic sustained severe damage, resulting in first responders having to cut the driver from the vehicle. They were rushed to the Regional Medical Center in critical condition.
It appears no one else was seriously injured in the accident.
Crews had the debris cleaned up and the lanes back open by 9:30 a.m.
On ramps from Winchester onto Bill Morris Pkwy blocked due to crash on Bill Morris Pkwy. pic.twitter.com/gGvUnemsqw

— Corie Ventura (@CVentura_WREG3) February 27, 2018
Big delays Bill Morris Pkwy WB between Winchester & Hacks Cross due to crash! All WB lanes blocked! pic.twitter.com/DBaZ9M8LlF

— Corie Ventura (@CVentura_WREG3) February 27, 2018
Crash on Bill Morris Pkwy WB between Winchester & Hacks Cross Rd. All lanes blocked! pic.twitter.com/VdJIpCOyAp

— Corie Ventura (@CVentura_WREG3) February 27, 2018