This is an archived article and the information in the article may be outdated. Please look at the time stamp on the story to see when it was last updated.
MEMPHIS, Tenn. — Two crooks got away with cash from a Family Dollar store in Hickory Hill Sunday, but had no idea the money they took could be traced.
One of the accused robbers,  Nitika Wilkerson, is now behind bars facing four counts of aggravated robbery.
For more than a month, Memphis police had been looking for a man and woman caught on camera during a holdup at the Family Dollar in the 4300 block of Winchester.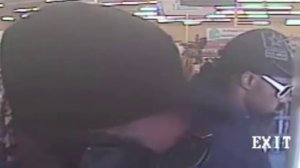 Investigators said the same duo robbed the Family Dollar Store on Hickory Hill Road, near Knight Arnold, Sunday at gunpoint.
People in the neighborhood said they are fed up with crime.
"That ain't nothing. I just saw one (Family Dollar) on Winchester where they were running out of the store with merchandise," said one man.
The Family Dollar on Hickory Hill  has been hit several times over the last two years. However, Sunday the crooks didn't make a clean getaway.
Thanks to a tracking device in the stolen money, police located the alleged robbers in a car in the 5300 block of Newberry — about a mile and half away.
Police arrested Wilkerson, but a man with her got away.
Investigators said Wilkerson admitted to driving the getaway car and also admitted to taking part in the armed robbery at the Winchester Family Dollar on June 11.
As a WREG investigation revealed last year, officers are called to dollar stores in Memphis on an average of four and a half times per day.  Customers said they couldn't blame Family Dollar for putting trackers in their money.
The owner of the gas station across the street from the Family Dollar on Hickory Hill Road likes the idea so much he's now considering doing the same thing at his store.
"I'm going to go ahead and do it for real," said Merwan Aidarous.
Police said the robbers got away with $700 from the Winchester Family Dollar, but haven't said how much they took Sunday or if they were able to recovery any of the money.
If you know anything about the man they are looking for call Crime Stoppers at (901)528-CASH.