This is an archived article and the information in the article may be outdated. Please look at the time stamp on the story to see when it was last updated.
MEMPHIS, Tenn. — Kelvin Montgomery is supposed to be sitting in prison, serving 12 years for kidnapping, rape and attempted murder. Now he and another woman are nowhere to be found.
His victim, a woman from Memphis whose identity we are hiding, still fears for her life today.
"I have lived in fear since he has been on the run. Just really shocked."
The crime played out inside an East Memphis home on Willow back in June of 2014.
Montgomery took the woman here after meeting her in a bar, where he reportedly drugged her drink.
For several hours, he tortured the woman, beat her and then raped her. She eventually got away by playing dead and waiting for him to fall asleep.
"He is the most evil monster that I have ever come in contact with. I definitely felt he would do it to someone else," the victim told WREG.
In court, last August she thought she would finally get justice when Montgomery reached a plea deal to serve 12 years, but he never showed up to start doing time.
As part of the deal, he was given 30 days before he had to report to start his time. He never showed up.
Last summer his victim made an eerie prediction.
"He is a real dangerous man. My only concern is he is gonna do this to another woman. I am pretty sure."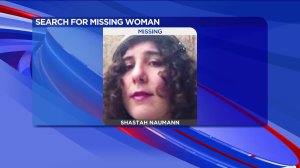 Fast forward several years and another girl –Shasta Naumann– is now missing. She was last seen with Montgomery.
"I am very scared for her. Hope he hasn't hurt her."
WREG spoke with Naumann's family who said she has never been gone this long, especially since she has a young son.
They aren't the only ones wanting answers. The bail company that Montgomery skipped out on is offering a cash reward. They said with Naumann involved, it's now about more than just the money.
"I don't know if she knows that he is a wanted party. No one has seen her since July. The family has not seen her since July."
"If he is not brought to justice there is no telling how many more victims he may have."
WREG has learned the Memphis Police and the US Marshals Office are both working this case, hoping to track down Montgomery before anyone else gets hurt.