This is an archived article and the information in the article may be outdated. Please look at the time stamp on the story to see when it was last updated.
Three people are confirmed dead and a dozen more injured as a powerful storm front packing suspected tornadoes smashed into buildings, downed trees and left a trail of destruction around the Deep South on Monday, authorities said.
One person was reported killed in a suspected tornado strike on a Louisiana home, and two others were reported dead after another storm hit around a community about 55 miles west of Huntsville, Alabama.
The area was filled with debris and downed trees when first responders arrived.
"It was total chaos," Norwood told reporters. "We had to make due the best we could."
At least 28,300 people had power outages in Mississippi, Louisiana and Alabama, according to the tracking site Poweroutage.
Video showed an eyewitness account of the tornado making a landfall at a neighborhood in Guntown, Mississippi, leaving several houses with damage roofs and broken trees.
Blake Ivy said the town was on curfew until 7 a.m.
The storms prompted numerous tornado watches and warnings Monday. Some cities opened shelters as a cold front collided with warmer air over northern Gulf Coast states and temperatures were expected to plunge. The National Weather Service said the severe weather threat could last into Tuesday.
The Louisiana death was attributed to an apparent tornado that struck a residential area in Vernon Parish. Details were not immediately available, said Chief Deputy Calvin Turner. He said authorities feared others could be hurt, since crews were still trying to reach hard-hit areas.
In nearby Alexandria, Louisiana, crews cleared roads and restored power late into the night, working in a chilly mist.
Children in a church school were moved to the church before the tornado ripped off the school's roof, said Cpl. Wade Bourgeois, spokesman for the Alexandria Police Department. Among the hardest-hit spots was the Johnny Downs Sports Complex, which he said may have suffered "total damage." The complex includes five full-sized soccer fields, more than 10 smaller ones, and eight baseball diamonds.
"Fortunately we have no reports of any deaths or serious injuries," he said of the Alexandria area.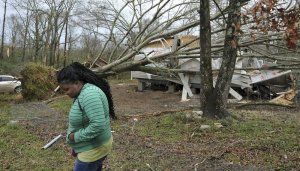 Meteorologist Donald Jones of the National Weather Service office in Lake Charles said it appeared the twister that hit part of Alexandria also struck near the town of DeRidder on an "absolutely ridiculous" path estimated at 63 miles long.
"I don't know what our records for the longest total in this area is, but that's got to be pretty damn close to it," he said.