This is an archived article and the information in the article may be outdated. Please look at the time stamp on the story to see when it was last updated.
MEMPHIS, Tenn. — Three teenagers and two adult males were arrested after attacking a man at a Whitehaven gas station Sunday evening, confirms the Memphis Police Department.
Cameras captured the brutal beat down of the 41-year-old man. The suspects can be seen kicking and punching him.
"I'm a little sore from the assault, but mentally I'm okay," the victim said.
It was Sunday around 6 p.m. when the man made a quick trip to the store in the 2000 block of East Shelby Drive.
Cameras caught the initial interaction with the group.
The victim told police one teen asked him to buy cigarettes because they were underage.
The victim declined, then went about his business and shopped inside the convenience store.
The footage shows the group continuing to linger in the parking lot.
The man then left the store and walked to his car that was parked off camera.
Then all of a sudden he is seen running back to the store.
This time the group was chasing him and attacking him. Police say they threw punches and repeatedly kicked the victim.
"I found out they was trying to rob me, because they were pulling and yanking at my pockets. They ended up getting a couple of items."
The victims wallet and his I-phone 6 were both taken.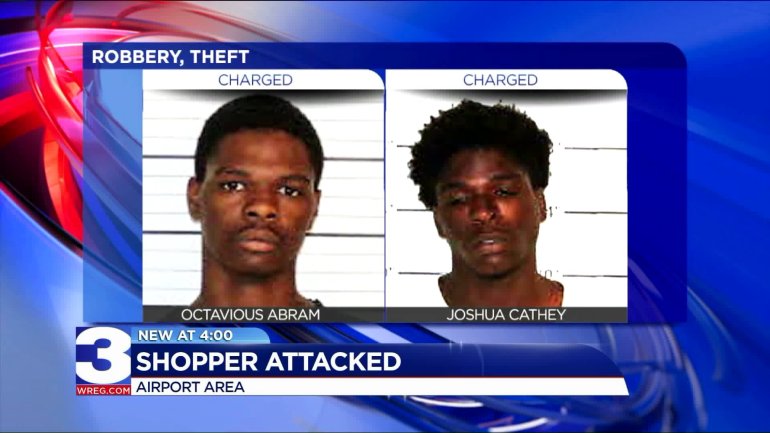 Cameras caught the young men  jumping into a silver car and speed away before a bystander called police.
The getaway car was spotted a short time later. An officer followed them to an apartment complex at Holmes Road and Tulane where the group bailed out of the car and took off running.
Five young men were taken into custody, one of them as young as 14-years-old.
Octavious Abram, 18, and Joshua Cathey, 19, are facing charges as adults.
The victims tells WREG he works with teens and this incident is a reminder that young people need help so they can stay out of trouble.
"They need more guidance. We should be more persistent in making sure they're guided and have other options."
The two men charged as adults do have a history of run-ins with the law in the past.
BRUTAL ATTACK: 5 people are charged after this attack at a gas station near the airport.The man says the group initially asked him to buy them cigarettes. He declined & continued shopping. When he left he says the group was waiting to rob him. Hear from him at 4 @3onyourside pic.twitter.com/Ba8IgVjI30

— Shay Arthur (@ShayA_WREG3) May 14, 2018