This is an archived article and the information in the article may be outdated. Please look at the time stamp on the story to see when it was last updated.
MEMPHIS, Tenn. — Memphis Police on Friday announced the arrest of three young family members they said had been "wreaking havoc" on citizens.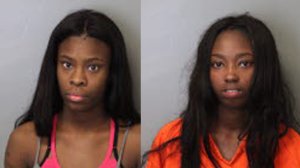 Two girls and a young man are facing robbery and carjacking charges in connection with a string of seven incidents in 48 hours this week, including carjackings and armed robberies all over town. One incident happened at a Kroger on North Germantown Parkway
The suspects are Rashawn Jones, 17; his sister Monica Jones, 19; and their relative Dontreal Holloway, 20.
Police Director Michael Rallings said an officer was flagged down Thursday by someone in a Germantown Parkway shopping center who said a male in a vehicle was acting suspiciously.
Inside the vehicle, the officer found driver Monica Jones with merchandise from Target that was purchased with a credit card that was not in her name, he said. The name matched the victim of a reported credit card theft.
From there, the trio was connected to other crimes.
Rallings praised the mother of Rashawn and Monica Jones, who he said had cooperated with police and was trying to turn her son in.
"Remember that an armed robbery is probably a breath away from potentially being a homicide," Rallings said. "I think this mother realizes that her intervention probably saved this young man's life, and these other two young ladies' life."
Rallings said the trio was responsible for a series of robberies announced previously and possibly additional robberies and carjacking. Additional charges could be coming.
He also said police were seeking information on others involved in the robberies.
[protected-iframe id="2ba89b730a60fb491f66b35cb4dc0569-29519520-12543204" info="https://www.facebook.com/plugins/video.php?href=https%3A%2F%2Fwww.facebook.com%2Fmpd1827%2Fvideos%2F1643340862412933%2F&show_text=0&width=267" width="267" height="476" frameborder="0" style="border:none;overflow:hidden" scrolling="no"]