This is an archived article and the information in the article may be outdated. Please look at the time stamp on the story to see when it was last updated.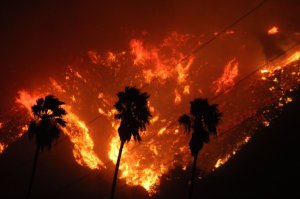 LOS ANGELES — Four massive wildfires continue to grow in southern California, the largest is the Thomas Fire and it's burned up to 140 square-miles. Nearly 200,000 people have been evacuated and hundreds of homes have been destroyed.
"The current condition that we're experiencing is going to exist for several days if not worsen as we move along," said Todd Durham, the incident commander for CalFire.
The weather conditions predicted for Thursday are just about the worst case scenario — low humidity coupled with the fiercest Santa Ana winds the area has ever seen with gusts up to 80 miles per hour.
"The brush burning index, that's the number that we rate the threat of a brush fire for tomorrow, is 296. This is the highest number I've ever seen in my career," said LAFD Chief Ralph Terrazas.
Multi-million dollar homes in Bel-Air are among those that've been reduced to rubble. Officials estimated an additional 12,000 homes throughout the region are still in harm's way.
"I was expecting this year, you know, to see snow on that mountain and now the thing's on fire," said Santa Paula resident Jake Sandell.
The fire is still raging in Ventura County and again is on the move, taking over entire hillsides as it makes its way towards Ojai.
Some residents of Ventura were allowed to return to their homes, or what's left of them.
"Devastated," said Kat Merrick crying. "And every friend we talk to is in the same boat."
Thankfully, the wind is expected to start dying down Friday though fire officials say the weather will still create a "critical fire condition" at least into Saturday.