This is an archived article and the information in the article may be outdated. Please look at the time stamp on the story to see when it was last updated.
MEMPHIS, Tenn. — The woman who was driving an SUV full of children shot in a deadly drive-by says she thinks the shooting could have been some sort of retaliation because she has "large amounts of money."
But Bontaya "Bonnie" Calvin still doesn't know who would've shot at her Porsche, injuring her and her 12-year-old son and killing the 10-year-old son of a friend, at Airways and Ketchum on Monday.
"Somebody wanted me dead," she said. "I don't know who."
In an exclusive interview with WREG, Calvin said her son has two bullets in his leg, but doctors tell her it's too risky to remove them. She was shot in the back.
"If I knew someone who I really was enemy with, I could say maybe say maybe she may have done this, maybe he have done this," Calvin said. "I even went to my kids and asked them, have they done something. Are they trouble with anyone? They all answered no."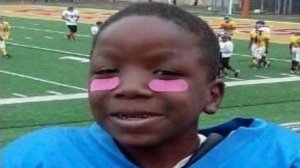 Her friend Rosalind Shields was also in the vehicle — her child Richard Jordan was killed in the shooting.
Calvin said Shields had been driving her truck for about a month, she said. Shields has a 14-year-old son in the juvenile system, Calvin said, and that teen has had death threats against him.
"Maybe the mistook my truck for somebody else's," Calvin said.
Calvin said she was dropping off someone at the red light on Airways when she saw a gold-colored car pull up. When she first heard the shots, Calvin said she thought they were in the middle of a gunfight between other people.
Then her windows started bursting from gunfire and everyone in the car laid down.
"After I felt the gun shot hit me, I said 'I'm hit.' My friend started screaming."
She drove to a police precinct and noticed blood.
"They ran in there and I opened the door to where my nephew was sitting in it and I saw him laying there with his eyes closed."
Because she's an entertainer and salon owner, Calvin said she has large amounts of money and frequently takes pictures of herself with her money. But she notes that the shooters didn't try to rob her.
That leaves her with few clues as to why someone shot at her family and friends.
"They came to kill everybody in that car."
► Richard Jordan was a student at Alton Elementary. A fund has been set up through School Seed to help the family with funeral and burial costs: https://ignite.schoolseed.org/project/8551