This is an archived article and the information in the article may be outdated. Please look at the time stamp on the story to see when it was last updated.
MEMPHIS, Tenn. — A 15-year-old is recovering after he was shot while walking to the bus stop in Parkway Village on Monday morning.
Police say Lorenzo Mays and his two buddies were wearing their Bluff City High School uniforms near Harrington and McKenzie when a Cadillac pulled up.
Officers say a man with a gun got out and robbed one of the teens while two other men got out and tried to rob the others.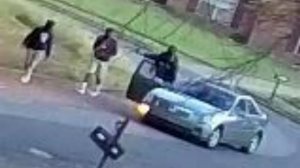 "It is just a senseless crime to me,"  his mother Johnell Grover said. "I can't grasp the concept why? Why?"
Grover says he wasn't gone but five minutes when her phone rang.
"To hear those words your son got shot are words I would never imagine a parent would hear," she said. "What was you doing? What was you thinking at 7 in the morning that kids are really going to have something?"
Lorenzo was shot in the thigh.
"He was doing exactly what he was supposed to be doing. He was walking to school waiting for the bus and this happened to him."
Jocquell Rodgers with Green Dot public schools is now organizing a town hall event to discuss kids' safety. It will be held at Wooddale Middle Thursday August 19 at 5 p.m.
"We want to see what we can do as a community because I don't want to see another child to be a victim."
In the meantime, Lorenzo waits to go home from the hospital as his mother waits for justice.
"You will get caught sooner or later. It's just a matter of time."
Green Dot Schools is raising money for the teen's medical bills. If you'd like to help out, call them at (901) 730-8160