This is an archived article and the information in the article may be outdated. Please look at the time stamp on the story to see when it was last updated.
MEMPHIS, Tenn. — An 18-year-old female was shot and killed around 12:30 a.m. Sunday.
Police identified her as Myneishia Johnson.
Two additional people were also shot.
One male, 19, was taken to a hospital in critical condition.
The second male, 23, was taken by private vehicle to the hospital in noncritical condition.
Police saw a car take off from the scene, and a short chase ensued.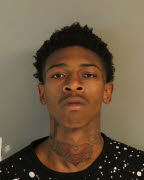 Officers took Kwasi Corbin, 19, into custody.
He is charged with first-degree murder, two counts of attempted first-degree murder and employment of a firearm during the commission of a dangerous felony.
[protected-iframe id="5828ac814da4470536a18c118108d230-29519520-61971461″ info="https://www.facebook.com/plugins/post.php?href=https%3A%2F%2Fwww.facebook.com%2FMichaelQuanderWREG%2Fposts%2F893708024071650%3A0&width=500″ width="500″ height="627″ frameborder="0″ style="border:none;overflow:hidden" scrolling="no"]