This is an archived article and the information in the article may be outdated. Please look at the time stamp on the story to see when it was last updated.
MEMPHIS, Tenn. — A teenage girl previously accused of stealing wigs is now is charged with a carjacking that left a Memphis man bloodied.
Detectives didn't have to go very far to find the suspect — 18-year-old Danahja Henderson — since she was in court for a previous offense.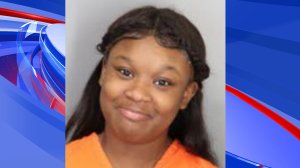 Police say Oct. 22, victim Lester Johnson was contacted by a young woman on Facebook asking for a ride from South Memphis to Orange Mound.
"I was kind of hesitating, but I said okay," he said.
For Johnson, it was supposed to be a way to earn extra cash. Instead he's left with stitches and scars as reminders.
"I had to get four stitches on both right here on my nose and right here under my eye."
When he picked up the woman outside the Cane Creek Apartments, she wasn't alone.
"She has two other females, who I do not know. They all get in my car."
Johnson drove them two miles. Then, the unexpected happened at Buntyn Street in Orange Mound.
"Two dudes open the door and pulled some guns on me."
Johnson says he was pistol whipped, is nose and check split open. He says the whole time, the woman who set it all up was yelling for her accomplices to take everything.
Afterwards he was bloody and disoriented, but he bolted, and he didn't have to go very far before running into an officer.
If Henderson, who was smiling in her mugshot, looks familiar, it may be because last month she was charged with snatching a wig. Police say that crime was also set up through Facebook.
Johnson was able to get his car back, but it too was left in bad shape.
"It was a total mess. I found diapers, I found blacks and cigarette butts," he said. "Then I found two bullets that were in the car too."
Johnson says physically he's okay, and is still counting his blessings to be alive.
Police say the carjacked vehicle was used during an attempted robbery days later.
At least one other person was also taken into custody. As for Henderson, she's due back in court Friday on the carjacking charge.