This is an archived article and the information in the article may be outdated. Please look at the time stamp on the story to see when it was last updated.
HENDERSON COUNTY, Tenn. —The Tennessee Bureau of Investigation is investigating a deputy-involved shooting in Henderson County that happened late Tuesday night.
The shooting happened in the small community of Reagan, a little less than two hours from Memphis.
The TBI said preliminary information indicates 23-year-old Darrion Barnhill started fighting with deputies after they showed up to a trailer park he was at off Tumbleweed Lane. They said he was not armed at the time of the shooting.
However, a pellet gun was found outside a trailer he was at but so far it has been determined the pellet gun has been at the home for a while.
Barnhill had multiple warrants out for his arrest.
On Wednesday, shreds of crime scene tape are what remained of a chaotic, deadly night.
"Heard him saying, I'm dyin, I'm dyin."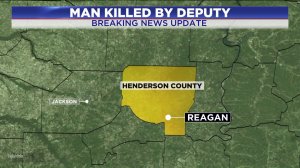 Those were the last words Tim Seagraves said he heard Barnhill say before he later died at the hospital.
"We're working to piece together exactly the set of events the forensic evidence as well as the witness statements," said Josh DeVine, a spokesperson for the TBI.
The TBI is investigating the case by the request of the Henderson County District Attorney. It is common for the TBI to investigate deputy and officer-involved shootings as an outside agency in Tennessee jurisdictions.
Seagraves said Barnhill knocked on his door wanting to use a phone after he realized his estranged girlfriend, who lives in another trailer off Tumbleweed Lane wasn't home. Multiple people said Barnhill wasn't acting normally. Eventually deputies showed up. Deputies recognized him as having warrants out for his arrest.
"He had two outstanding warrants for failure to appear, he had one outstanding warrant for aggravated assault and I'm told there was an order of protection against his girlfriend he had yet to be served for," said DeVine.
"He just went to fighting, told them he wasn't going to jail," said Seagraves.
Seagraves said things escalated.
"He fought with them. They tasered him, the taser didn't help, then they shot him. The taser didn't do him no good because he pulled the wires out and just kept coming," explained Seagraves.
WREG looked in Barnhill's criminal history. We discovered he has an eight-page long rap sheet of arrests. In 2014 he was convicted of domestic assault, in 2013 he was convicted of aggravated burglary and assault.
News of the shooting spread quickly in the small community. Many people paid tribute to Barnhill on social media.
At the scene of the shooting WREG talked to the mother of Barnhill's estranged girlfriend.
"Darrion was a really good person, he did not deserve what happened last night," Carolyn Allen said wiping away tears.
Despite her daughter filing an order of protection against him she still called him a good guy. She said she wasn't aware of his criminal history or all the details of the case but said she is heartbroken for his family.
"Everybody makes mistakes, they went too far," she said.
Late Wednesday afternoon the attorney for Barnhill's family said he had been in contact with multiple witnesses who saw the shooting. He said they painted a much different picture of the scene and said Barnhill was on the ground when he was shot. He also had other issues with initial information relayed about the investigation.
He said his office would be conducting their own investigation.
The TBI's case is also far from closed. They are on a fact finding mission, that could take months.
"Trying to determine how did it escalate from officer showing up to outcome," said DeVine.
All of the information the TBI collects will be turned over to the Henderson County District Attorney who will decide what to do with it.
DeVine said the deputies were wearing body cameras at the time of the shooting.
The Henderson County Sheriff said one of the deputies involved in the shooting is on administrative leave until the investigation is complete.