This is an archived article and the information in the article may be outdated. Please look at the time stamp on the story to see when it was last updated.
MARSHALL COUNTY, Miss. — Police have identified the man who shot a Marshall County Sheriff's deputy and barricaded himself inside a house for nearly four hours Friday.
Marshall County Sheriff Kenny Dickerson said deputies pulled over a car driven by Randy Vaught, 33, on Mt. Zion Road around 6:15 p.m. after he and two other people were seen leaving a suspected drug house. According to Dickerson, one of the people with Vaught said they had seen him do meth.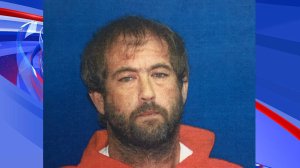 Dickerson said Deputy Daniel Tatum asked for Vaught's license and insurance, but Vaught didn't have either and led deputies on a high-speed chase to his mother's house on Hunter's Run Drive near Byhalia.
Once at the house, Dickerson said Vaught's two companions fled and Vaught entered the house through a back door. When Deputy Tatum opened the door to follow Vaught, Dickerson said Vaught shot him.
The sheriff said Tatum played dead but that Vaught walked up to him and shot him several more times in the chest area. Dickerson estimated Tatum was shot three to eight times total with wounds in the chest area, an arm and a leg.
[protected-iframe id="1ed581efa56e4cba6e02012559fec741-29519520-149092669″ info="https://www.facebook.com/plugins/video.php?href=https%3A%2F%2Fwww.facebook.com%2Fwreg3%2Fvideos%2F1887582518014122%2F&show_text=0&width=560″ width="560″ height="315″ frameborder="0″ style="border: none; overflow: hidden;" scrolling="no"]
Officers managed to get Tatum to a fire station where they airlifted him to Regional Medical Center in Memphis. Dickerson credited Tatum's bullet-proof vest with saving his life.
Dickerson said he had known Vaught since he was a child. He said Vaught's mother called him and asked him to talk her son out of the house.
"In my honest opinion, had he not been under the influence of drugs or alcohol, I could have talked him out immediately," Dickerson said.
During the standoff, Vaught kept going to the front door, then darting back inside and kept moving his hands around his waistband, Dickerson said.
He also posted on Facebook, apologizing to his family and promising to surrender before linking to a rap song and writing:
"lol told yall I'm bout that life yall don't want it."
Around 10:15 p.m., Dickerson said Vaught emerged from the house and began walking towards him.
"Suddenly, he just stopped and he knelt to his knees and pulled a handgun from the waistband there with the shorts he was wearing, put it to the side of his head and pulled the trigger," Dickerson said.
Before Vaught killed himself, Dickerson said he mumbled something about asking God to forgive him. Deputies later found a suicide note addressed to Vaught's mother inside the house.
Dickerson said Vaught was already out of jail on a $100,000 bond for statutory rape at the time of Friday's shooting.