This is an archived article and the information in the article may be outdated. Please look at the time stamp on the story to see when it was last updated.
MEMPHIS, Tenn. -- A massive police presence was reported early Thursday morning in the 4900 block of Cottonwood Road.
According to authorities, it all started when an officer caught the driver of a Tan Mercedes Benz 300E doing 60 miles per hour in a 30 miles per hour zone. The driver, Lashawn McGregor, was even driving the wrong way down the street in order to pass other drivers, they said.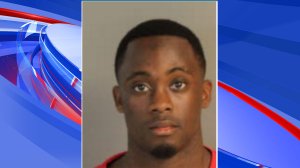 When the officer tried to pull him over, McGregor jumped out of the car and began heading westbound on Cottonwood toward Evans Elementary School. That's when the officer noticed he had his hand in his pant pocket and was holding on to a gun. Verbal commands for McGregor to take his hand off the gun were ignored, the officer said in his police report.
That's when the driver began heading towards the officer. After a brief struggle, McGregor was taken into custody.
He did not possess a carry permit, authorities said.
McGregor was charged with resisting official detention, speeding and unlawful possession of a weapon.