This is an archived article and the information in the article may be outdated. Please look at the time stamp on the story to see when it was last updated.
MEMPHIS, Tenn. — A young man is behind bars after he was allegedly caught on camera beating an IHOP manager last week.
It all started after a party of five reportedly became rowdy inside the Union Avenue location early Friday morning. The manager said he asked the group to leave after they wouldn't quiet down. Members of the group reportedly started yelling but were walking towards the exit when one of them allegedly attacked.
Surveillance video showed two others from the group joined in, hitting the man in the face with plates, chairs and their fists, police said. The manager received multiple stitches to the back of his head, above one eye and near his eyebrow.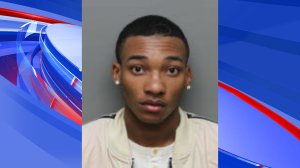 He was later able to identify Malachi OKelley as one of the individuals involved.
OKelley reportedly admitted to his role in the attack and was charged with aggravated assault.
So far, authorities have not identified the others involved.