This is an archived article and the information in the article may be outdated. Please look at the time stamp on the story to see when it was last updated.
MEMPHIS, Tenn. — Police are looking for three cars caught on surveillance video that they say were involved in a shooting that killed one child and injured another Monday.
The vehicles — a gold Chevrolet Malibu, a black Chrysler 300, and grey sedan — can be seen in the video driving past the victims' black Porsche Cayenne at Airways and Ketchum. Police say they fired multiple times at the Porsche.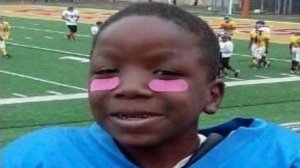 Officers located a 12-year-old boy who had been shot. He was transported to LeBonheur Children's Hospital in critical condition but has since been downgraded to non-critical condition.
A second child, 10-year-old Richard Jordan III, was located with a gunshot wound and was transported in critical condition to LeBonheur Children's Hospital where he later died from his injuries.
An adult female, 34, was also located with a gunshot wound. She was transported in non-critical condition to Regional One Hospital.
If you see a vehicle that's abandoned, parked or riding through your neighborhood with bullet hole damage, Memphis Police ask you to call 901-528-COPS.