This is an archived article and the information in the article may be outdated. Please look at the time stamp on the story to see when it was last updated.
MEMPHIS, Tenn. — Michael Mosley, the suspect in the stabbing deaths of two men in a Nashville bar Saturday and the wounding of a third, was captured Wednesday, Metro Nashville Police announced.
Mosley will be booked on two counts of criminal homicide, and one count of attempted criminal homicide for a third victim who was injured.
Police said Mosley surrendered from a vacant home in Cheatham County, Tennessee, after it was surrounded by law enforcement. He was there alone.
BREAKING: Accused double murderer Michael D. Mosley just arrested in Cheatham County. Mosley will be booked later today on 2 counts of criminal homicide and 1 count of attempted criminal homicide for Saturday morning's stabbing of 3 men, 2 fatally. pic.twitter.com/XxLjtaooPO

— Metro Nashville PD (@MNPDNashville) December 25, 2019
Mosley was wanted on two counts of homicide and one count of attempted homicide for a stabbing at The Dogwood bar in Nashville that killed two men and injured another.
Clayton Beathard, 22, and Paul Trapeni III, 21, were killed. Nashville Police believe the stabbing began with a fight over unwanted advances toward a woman at the bar.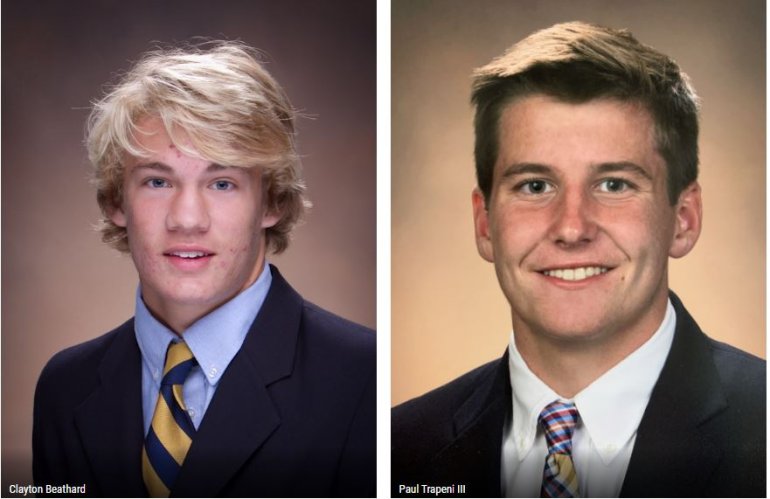 Beathard was the brother of a San Francisco 49ers quarterback and son of a country music songwriter.
Trapeni was a student at Rhodes College in Memphis, where friends said he was majoring in political science and planned to go to law school. He is from Middle Tennessee.
Police spokesman Don Aaron said the investigation shows Mosley made unwanted advances toward a woman who was a friend of the victims.
A verbal dispute occurred inside the bar, which led to physical fight outside the bar, Aaron said. It appears Mosley, armed with a sharp object, stabbed the victims, he said.
Beathard and Trapeni were stabbed in their sides and taken to Vanderbilt University Medical Center, where they died, police said. Autopsies showed the men died of stab wounds, Aaron said.
Mosley has an extensive criminal history with past charges of assault and robbery, according to news partner WKRN. At the time of the fatal stabbing, investigators said Mosley was free on a $5,000 bond after attacking a 37-year-old woman at a Walmart in December 2018.
The state of Tennessee, along with citizens and business owners, is increasing the pressure in the hunt to find a 23-year-old accused of killing a Rhodes College student and the brother of an NFL player at a Nashville bar early Saturday.
The Tennessee Bureau of Investigation added Michael Mosley to the state's Most Wanted list on Wednesday, and Gov. Bill Lee approved a $10,000 reward for his capture.
Meanwhile, news partner WKRN reported that a group of Nashville business owners pledged $20,000 cash toward the reward fund, and sports journalist and radio host Clay Travis added another $10,000. With the state's initial reward, that brought the total to $42,500.