This is an archived article and the information in the article may be outdated. Please look at the time stamp on the story to see when it was last updated.
SOUTHAVEN, Miss. — Southaven police have confirmed a 6-year-old K-9 officer died after his handler left him in a police car earlier this week.
Police Chief Steve Pirtle said the handler just returned to the office Tuesday evening following undercover work when he left his partner, Gunner, in the car.
The windows were rolled up and the car off.
By the time the officer returned two hours later, Gunner was in complete distress and was rushed to a nearby animal hospital. Sadly, it was too late.
Gunner was the only K-9 dedicated to the department's narcotics division and had only been partnered with the officer for three weeks when the incident occurred.
Southaven's K-9 unit cars have safety equipment installed that keep the air on and the car locked, and notify the officer if it gets too hot in the car.
Gunner's car did not have that safety equipment installed.
The Southaven police chief told WREG there will be disciplinary action against the officer, and the department will be making policy changes to prevent something like this from happening in the future.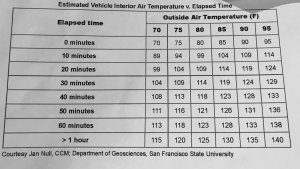 "There will be disciplinary action. We won't be able to discuss what that is, because it's personnel, but I can assure you there will be disciplinary action," said Pirtle.
The handler will not face any criminal charges.
A local vet told WREG the car was likely over 130 degrees inside.
"They go from where they're uncomfortable mildly. As the temperature begins to rise, their anxiety begins to rise. They have difficulty breathing. They can't sweat as well as we can," said Dr. Heather White.
[protected-iframe id="cbd28d62b9ea6ffeeeb77df6fceb18a6-29519520-12543204" info="https://www.facebook.com/plugins/post.php?href=https%3A%2F%2Fwww.facebook.com%2Fwreg3%2Fposts%2F1852965824732115&width=500" width="500" height="510" frameborder="0" style="border:none;overflow:hidden" scrolling="no"]