This is an archived article and the information in the article may be outdated. Please look at the time stamp on the story to see when it was last updated.
MEMPHIS, Tenn. — One person was rushed to the hospital overnight following a shooting in Frayser, and now two people are facing charges in the crime.
According to police, a 52-year-old man was shot in the 1000 block of Cindy Lane, between Thomas Street and Millington Road at about 12:15 a.m. He was taken to Regional One Hospital in critical condition.
After an investigation, police found that 25-year-old Leviticus Edwards, who knew the victim, knocked on the victim's door to get the victim to come outside to speak with him. The two had a conversation, and according the police report, Edwards got into his car, pulled out of the driveway and shot the victim.
Edwards left the scene before police arrived.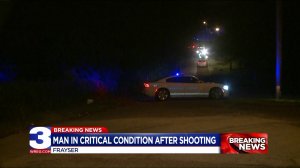 Around 1:50 p.m., an officer saw a gray Ford Taurus driving at a high rate of speed in the area of Jackson Avenue and Covington Pike. The officer stopped the vehicle and spoke with the driver and passenger.
The driver, Edwards, had various outstanding warrants. He also was a convicted felon, and the officer saw a handgun on the passenger's side floorboard of the car.
The passenger, 24-year-old Jordon Wright, had a temporary order of protection that prohibited him from having a firearm. Neither suspect claimed ownership of the gun, and they were both taken to MPD's Felony Response Bureau for additional questioning.
After identifying Edwards as the suspect from the Cindy Lane shooting, both men were charged and taken to 201 Poplar.
Edwards faces charges of being a convicted felon in possession of a handgun, driving with a suspended license, reckless driving, speeding and aggravated assault.
Wright was charged with unlawful carrying or possession of a weapon and violation of bail conditions.