This is an archived article and the information in the article may be outdated. Please look at the time stamp on the story to see when it was last updated.
MEMPHIS, Tenn. — Sherra Wright, the ex-wife of basketball star Lorenzen Wright, appeared in court Thursday to face charges in his death.
In what proved to be a relatively short appearance, a judge read the charges a Shelby County Grand Jury returned against the defendant, which include first-degree murder, criminal attempt to commit first-degree murder and conspiracy to commit first-degree murder.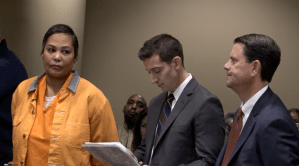 If convicted, the defendant could face life in prison, life in prison without parole or the death penalty. The state has not indicated which they will be seeking.
Sherra Wright stood in between her defense team, made up of Steve Farese Sr. and Steve Farese Jr. from the Farese Law Firm and Leslie Ballin and Blake Ballin from Ballin & Associates, two of the city's top law firms.
While in court, her attorneys asked for a 30 day continuance in the case to give Sherra Wright's family enough time to finalize details.
This means Sherra Wright is going after attorneys who have defended high profile cases and won.
"Steve and Blake will take the lead, and we will be there for whatever support and help we can give," Farese Sr. said.
On Thursday, attorney Blake Ballin told WREG they haven't heard officially, but he'd be surprised if prosecutors seek the death penalty.
"That's a wait and see kind of thing. There are a number of legal factors that have to be met before the death penalty can be sought. Based on what I know about this case thus far I would be surprised if they went forward in that manor. "
"It's still under consideration," Prosecutor Paul Hagerman said.
The other charges could carry anywhere from 15 to 61 years behind bars.
Both the defense and prosecutor told WREG this will be a tough case, since the murder happened seven years ago.
Both the prosecutors and the defense wouldn't say if they wanted the trail to move to another city, or if Wright and Turner could be tried together.
All details are being worked out.
"She's calm. She understands the proceedings. She's anxious to pursue representation," Attorney Farese Jr. said.
The judge set her next appearance for February 26 at 9 a.m.
Her co-defendant, Billy Turner, will also appear that day.
RELATED: Full coverage of the Lorenzen Wright case
The indictment returned by the grand jury alleges that Sherra Wright and Turner killed Lorenzen Wright with  premeditation between July 17, 2010 and July 20, 2010; conspired and agreed to kill him between April 1, 2010 and July 30, 2010; and traveled to the area of Callis Cutoff and Hacks Cross Road to kill Lorenzen Wright.
The indictment also says that the pair tried to kill Lorenzen Wright outside his home in Atlanta sometime between April 1, 2010, and July 17, 2010, buying firearms and recruiting a third person who has not been indicted.
Wright's body was found in a swampy field in suburban Memphis on July 28, 2010, 10 days after the 34-year-old was reported missing. He had been shot multiple times.
The gun was discovered in a lake on County Road 302 in Walnut, Mississippi in November.
Turner was arrested about a month later at the Express Mart on Highway 72 in Collierville and was held on a $1 million bond.
A clerk at the store said Turner was a regular customer who came in every day. He owned a landscaping business and frequently joked with employees.
A friend who lived near the Collierville home Turner rented said he was also a deacon at Mt. Olive No. 1 Baptist Church. It's the same church Sherra Wright attended.
Sherra Wright was arrested on December 16 in Riverside County, California.
The case is being handled by Chief Prosecutor Paul Hagerman of the DA's Multi-Agency Gang Prosecution Unit, and Asst. Dist. Atty. Colin Campbell also of the MGU, which prosecutes homicide cases and other violent crimes associated with gang activity, specific targeted gang members or special cases assigned by the District Attorney General.