This is an archived article and the information in the article may be outdated. Please look at the time stamp on the story to see when it was last updated.
COVINGTON, Tenn. — The Tipton County Sheriff's Office confirms two guns, including an AR-15, were taken from an off-duty deputy's patrol car in Covington.
Investigators say the suspect was seen on security footage from 11 p.m. Sunday to 3 a.m. Monday near the deputy's home in the 100 block of North Maple.
Deputies were called to the scene Monday morning and found that the car's windshield had been smashed in and that a Remington 12 gauge shotgun and an AR-15 rifle were missing.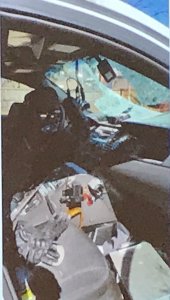 "It was that easy for him to get into it. It would be easier for him to go into a school or go into a store and hold it up and kill somebody," said Katilin Joy.
Investigators say the gun lockers had been destroyed along with other parts of the car.
The deputy involved will not face disciplinary action, according to the Sheriff's Office. They say he followed proper procedures by locking his car and guns properly and monitoring it with security surveillance.
"This would be no different really than weapons being locked inside someone's home in a gun safe being stolen. It's the same principle," said Sheriff J. T. "Pancho" Chumley.
Deputies say they were able to recover the stolen shotgun near the scene, but that the AR-15 is still missing.
This is the ninth vehicle break-in in Covington during the month of February, according to police. In all other eight break-ins, the vehicles were left unlocked.
"Everyone is having this type of issue. It's not unique to Covington or Tipton County," said Covington Police Chief Buddy Lewis.
Investigators are offering a $1,000 reward for any information that leads to an arrest or that helps them recover the stolen AR-15.
"I want to be clear: To whoever the suspect is, we're coming. We're gonna get the gun and they're gonna go to jail," said Chumley.
You can contact the Crime Investigations Division at 901-475-3300.
[protected-iframe id="a3cb5ef887e99296503e0eb64bd4aa8e-29519520-103638270" info="https://www.facebook.com/plugins/video.php?href=https%3A%2F%2Fwww.facebook.com%2Flukejoneswreg%2Fvideos%2F1801999636524853%2F&show_text=0&width=560" width="560" height="315" frameborder="0" style="border:none;overflow:hidden" scrolling="no"]]