This is an archived article and the information in the article may be outdated. Please look at the time stamp on the story to see when it was last updated.
MEMPHIS, Tenn. —  Authorities are searching for several people who allegedly tried to run over officers with their car, forcing the officers to fire shots at them Monday night.
One man is behind bars in relation to this incident, while two more male suspects are still on the loose.
Authorities said they were called to the Fairfield Inn and Suites on Showcase Boulevard in Parkway Village after two men were spotted looking into a car as if they were about to break in. The two men along with several other people went into a room.
Officers said that the car in question had been reported stolen from the Boulevard Apartments on Eyerie Drive on Nov. 28.
As officers were talking with people at the front desk, several of the men exited the room and took off running in different directions. Police followed three of them to a silver Toyota Camry that had been backed into a parking space and told them to stop.
One of the suspects allegedly opened the door implying that he was going to comply, but when officers approached, the driver suddenly accelerated towards them.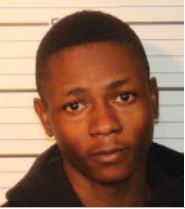 Officers fired their weapons, but no one was hit.
Shortly after the incident, employees at a nearby Taco Bell called 911 saying that an armed man was trying to hide in the women's bathroom.
Officers identified the man as Renardo Townsend. He was arrested and charged with unlawful possession of a weapon.
According to his criminal background, Townsend was arrested on similar charges in September, 2017. In that case, Townsend was arrested along with eight others after being caught with a stolen car and handgun after the group ran from authorities. Those charges were later dismissed.
Two women were detained but were quickly released.
The officers who fired their weapons have been relieved of duty pending the outcome of the investigation.