This is an archived article and the information in the article may be outdated. Please look at the time stamp on the story to see when it was last updated.
MEMPHIS, Tenn. -- At least 40 people marched in downtown Memphis during the "4 Peace, Unity and Remembrance event." Rev. Jesse Jackson headed the march.
"This is the 48th anniversary of Dr. King's assassination. We must never forget what he did, how he died," he said.
During the march, people held up signs that read "Stop the violence," and Jackson told the group it's time to put an end to black-on-black crime and police brutality in Memphis.
So far to date this year there have been 61 homicides.
"Whether it is Memphis or Chicago or New Orleans, there is too much violence, too much self-destructive behavior," Jackson said.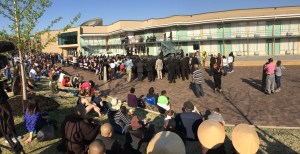 The ecumenical program begins at 4:30 p.m. at the museum.
There will be a moment of silence at 6:01 p.m.
Nearly 15,000 people are expected to visit the museum this week.
At 11 a.m. Monday, hundreds joined Mayor Jim Strickland for a musical event to commemorate the life of King.