This is an archived article and the information in the article may be outdated. Please look at the time stamp on the story to see when it was last updated.
MEMPHIS, Tenn. — Seventeen people have been indicted following an extensive investigation into a wide-ranging methamphetamine organization that distributed drugs in Shelby County and parts of the Mid-South, said Shelby County Dist. Atty. Gen. Amy Weirich.
According to a release from Weirich's office:
The 18-month investigation by the Shelby County Sheriff's Office Narcotics Division showed that leader of the organization, identified as Vanrico Clayton, would buy methamphetamine for $3,500 to $4,000 per pound and then sell it for $400 to $600 per ounce.
Investigators said Clayton laundered some $30,000 by investing drug proceeds in a chicken restaurant on Mt. Moriah Extended. At least one workman was paid in methamphetamine for remodeling work he did at the restaurant.
The investigation identifies leaders and multiple co-conspirators, including middlemen and lower level dealers who helped distribute the drugs throughout Shelby County and in areas of the Mid-South ranging from Sardis, Miss., to Rutherford, Tenn.
The drugs were weighed and pre-packaged, and in the Frayser area then often were delivered to buyers and sellers at businesses and residences by a courier riding a bicycle. In one instance, investigators found more than two pounds of methamphetamine stored in a doghouse behind a residence.
Key points of sale included three areas located less than 1,000 feet from elementary schools.
"The hard work of these sheriff's officers shows a disturbing picture of a drug operation that managed to spread its poison by blending into the everyday life of our community," said Gen. Weirich. "Hopefully this will eliminate an operation that profited by adding to the misery of those dependent on illegal and addictive drugs."
Stacy Dodd, with Turning Point, says a large meth organization can really saturate a community.
"Overtime you see things start to disintegrate. You see lives start to be disintegrated. You see whole communities devastated by it."
Dodd says there are more operations like this one that need to be uncovered.
"I think with the single indictment, many lives will be saved. Many lives that were destroyed and damaged will be saved. But it's also very rampant in our society, and I believe it's getting more rampant in Tennessee and Mississippi."
The defendants were indicted on state charges of possession of 300g of methamphetamine with intent to sell/deliver within a school zone and possession of a firearm during a drug felony as co-conspirators.
They include Clayton, 31; Victor Love, 43; Jesse Callahan, 34; Victor Lewis, 19; Jameka Ward, 38; Roger Qualls, 51; Wayne Gunter, 31; Peter Larkin, 38; James Stacy Floyd, 44; Paula Reno-Miller (aka Paula Woods), 42; Katrina Jones (aka Katie Jones), 32; Preston Garner, 35; Damon Brunner, 48; Ashley Mathis, 26; Andrew Harris, 33; Brandon Akin, 33, and Gary Riley, 41.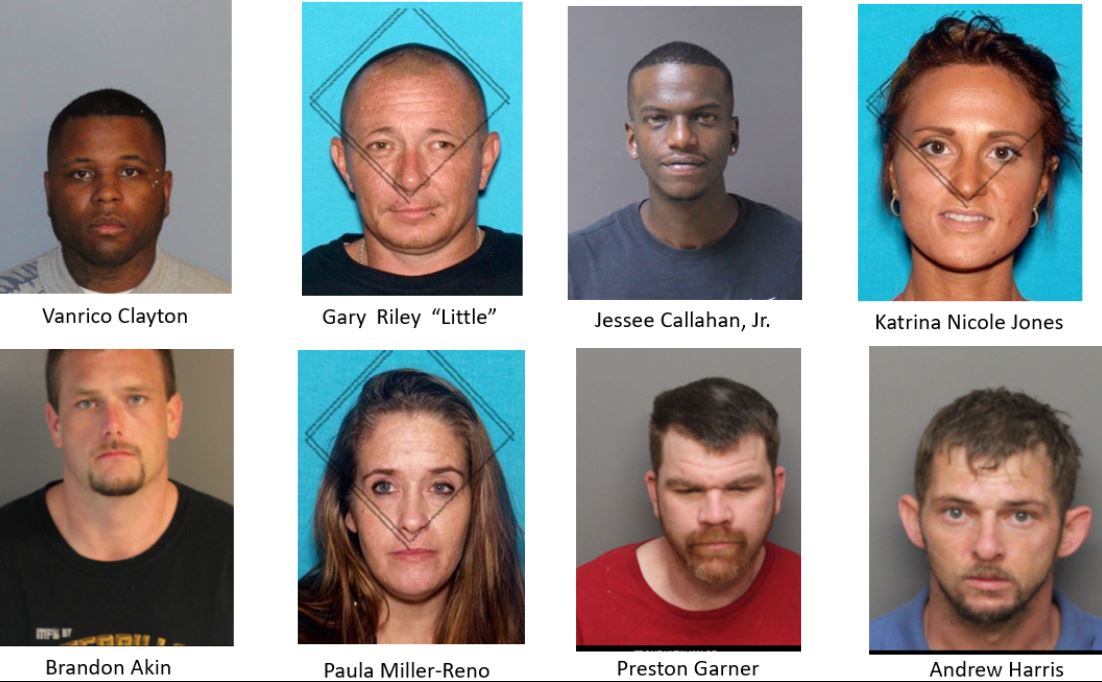 The case is being handled by the DA's Crime Strategies Prosecution Unit which incorporates and expands the work of the Multi-Agency Gang Unit, the Organized Crime Unit, the Shelby County Sheriff's Office Narcotics Division, Project Safe Neighborhood/Gundone, GunStat, the Safe Streets Task Force and the Violent Crime Unit.
To learn more about the Turning Point Treatment Center you can call their helpline at 1-888-614-2251 or click here.