This is an archived article and the information in the article may be outdated. Please look at the time stamp on the story to see when it was last updated.
MEMPHIS, Tenn. — Three people have been arrested after a shooting in the Bethel Grove neighborhood left a seven-year-old boy fighting for his life.
Police identified the suspects as Alexander Lewis Junior, Malik Martin and a 17-year-old minor. Each has been charged with attempted first-degree murder and 13 counts of aggravated assault.
The Memphis Police Department did not identify the 17-year-old due to his being tried as a juvenile.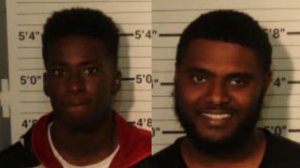 According to police, the boy was inside a home in the 2700 block of Browning around 10 p.m. Tuesday when more than a dozen shots were fired into the house striking the child. He was rushed to LeBonheur Children's Hospital by a private vehicle.
"There were multiple people in the home. There were multiple children in the home, so this could have been an even more horrific scene," Louis Brownlee, with the Memphis Police Department, said.
Neighbors who passed by said they're angry that yet another child is the victim of more senseless violence.
"I think that's a shame. There are too many kids around here for people to just be shooting for no reason. It had to be for no reason," a neighbor said.
More than 40 evidence markers were at the scene, and neighbors say the shocked by how many gunshots they heard.
"It had to be 50 to 100. I mean, it sounded like battlefields. They was going back to back," a woman said.
Authorities said the suspect fled the scene in a four-door sedan.
If you know anything call Crime Stoppers at (901) 528-CASH.